The Role of personality characteristics of Leader in Business organizations entrepreneurship with strategic flexibility mediated (A Field Research)
Sana Abdul Rahim Saeed Abadi

Farah hussien Ali Aliqabi
Keywords:
strategic flexibility, business organizations entrepreneurship, personality characteristics.
Abstract
    The personality characteristics of the Leader are considered one of the main elements to reach into business organizations entrepreneurship; and because of the development of the organizations of the continuous transformations as result of huge Competition in private High Education sector, there is a great need for Leaders characterized of certain personality capable of managing their organizations and can positively effect on them. Also these organizations' success to reach into entrepreneurship requires a main significant element that is (strategic flexibility) which is considered one of the important elements for success.
    Accordingly, this research is trying to find the effective role of the personality characteristics of the Leader in business organization entrepreneurship by studying the effect of the special dimensions of personality characteristics (neuroticism, extraversion, openness, Agreeableness, and conscientiousness) on business organizations entrepreneurship dimensions representing in the two main dimensions (entrepreneurship direction and strategic entrepreneurship) with strategic flexibility mediated with its dimensions (competitive flexibility, information flexibility, human capital flexibility and procedures simplification) across field research in thirteen private colleges in Baghdad.
    This research came in an attempt to answer several questions the most important of them are (Is there an effect for Leader personality characteristics on strategic flexibility?), (Is there an effect for strategic flexibility on business organizations entrepreneurship?), (Is there an effect for Leader personality characteristics on business organizations entrepreneurship when strategic flexibility mediated?).
     The researchers have designed an opinion Questionnaire form to determine the dimensions of business organizations entrepreneurship, it is distributed on three private colleges on a sample of (40) persons, the model consisting selecting two main dimensions for business organizations entrepreneurship by selecting the highest percentage the items obtained, which is for entrepreneurship direction and strategic entrepreneurship. Then a questionnaire is made as a tool for measurement, All construct items were measured on a five-point Likert Scale, ranging from (1= strongly disagree) to (5= strongly agree)                              
    The Result confirm there are effect of some personality characteristics of the leaders on business organizations entrepreneurship.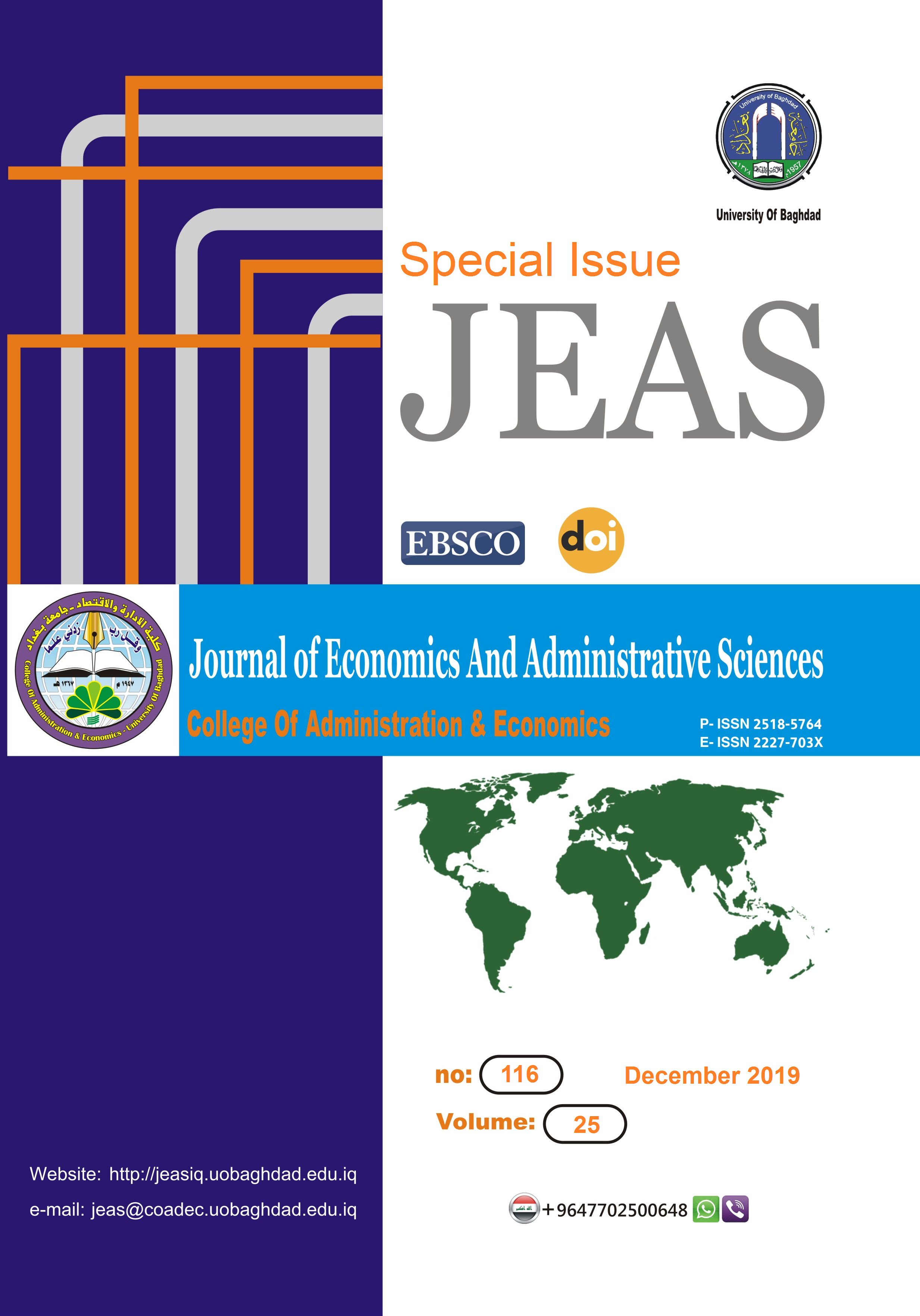 How to Cite
Saeed Abadi, S. and Ali Aliqabi, F. (2019) "The Role of personality characteristics of Leader in Business organizations entrepreneurship with strategic flexibility mediated (A Field Research)", Journal of Economics and Administrative Sciences, 25(116), pp. 15-42. doi: 10.33095/jeas.v25i116.1786.
Section
Managerial Researches
Articles submitted to the journal should not have been published before in their current or substantially similar form, or be under consideration for publication with another journal. Please see JEAS originality guidelines for details. Use this in conjunction with the points below about references, before submission i.e. always attribute clearly using either indented text or quote marks as well as making use of the preferred Harvard style of formatting. Authors submitting articles for publication warrant that the work is not an infringement of any existing copyright and will indemnify the publisher against any breach of such warranty. For ease of dissemination and to ensure proper policing of use, papers and contributions become the legal copyright of the publisher unless otherwise agreed.
The editor may make use of Turnitin software for checking the originality of submissions received.