The Role of Information Technology Competency in Activating of Human Resources Management Practices/ Applied Study in the Informatics and Communications Public Company in Iraq
Nada Ismaeel Jabbouri Qammach
Keywords:
IT competency, HRM Practices, IT usage, IT knowledge, IT operations, Training Program, Job Design, Recruitment, and Performance appraisal., كفاءة تكنولوجيا المعلومات، ممارسات إدارة الموارد البشرية، استخدام تكنولوجيا المعلومات، معرفة تكنولوجيا المعلومات، عمليات تكنولوجيا المعلومات، برامج التدريب، تصميم االعمل، التوظيف (الاستقطاب)، وتقييم الأداء.
Abstract
This research aims to clarify the role of Information Technology Competency (ITC) with dimensions' (IT Usage, IT Knowledge, and IT Operations) as an independent variable in the activation of Human Resources Management Practices (HRM Practices) as a dependent variable with dimensions' (Training and Development, Recruitment, Job Design, and Performance appraisal). Based on this, the correlation and effect relationships between the independent and dependent variables are determined by formulating two main hypotheses. There are a significant relationship and effect of IT competency with HRM practices within the dimensions. Furthermore, the scope and population of this research are the Informatics and Communications Public Company in Iraq. A quantitative design methodology was used to examine the relationships among variables of this research was used and the researcher adopted the descriptive-analytical approach. The questionnaire was distributed to a number of employees and managers (responders'), they were selected randomly and included 76 respondents. The statistical program (SPSS) was used to analyse the data through the use of statistical and descriptive methods such as mean, variation coefficient, and standard deviation, to analyze and describe data for correlation hypothesis testing, and simple linear regression coefficient to test impact hypothesis. The most important of conclusions to this study indicated that is a   correlation among the HRM practices are related to IT competencies, Hence, there is an effective relationship positively between research variables.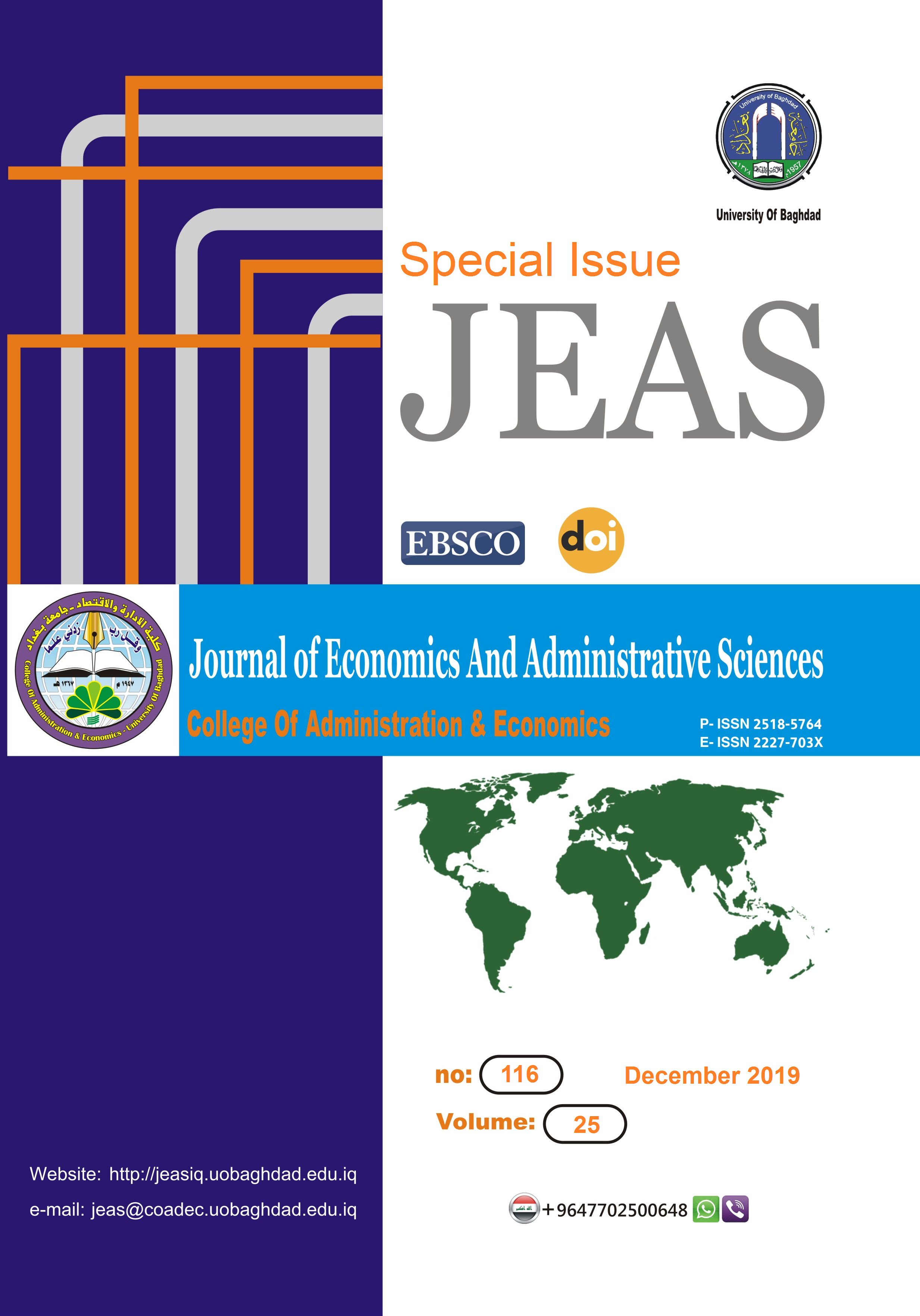 How to Cite
Jabbouri Qammach, N. (2019) "The Role of Information Technology Competency in Activating of Human Resources Management Practices/ Applied Study in the Informatics and Communications Public Company in Iraq", Journal of Economics and Administrative Sciences, 25(116), pp. 43-67. doi: 10.33095/jeas.v25i116.1787.
Section
Managerial Researches
Articles submitted to the journal should not have been published before in their current or substantially similar form, or be under consideration for publication with another journal. Please see JEAS originality guidelines for details. Use this in conjunction with the points below about references, before submission i.e. always attribute clearly using either indented text or quote marks as well as making use of the preferred Harvard style of formatting. Authors submitting articles for publication warrant that the work is not an infringement of any existing copyright and will indemnify the publisher against any breach of such warranty. For ease of dissemination and to ensure proper policing of use, papers and contributions become the legal copyright of the publisher unless otherwise agreed.
The editor may make use of Turnitin software for checking the originality of submissions received.