The Effect of organizational stress on the Performance of professor at the Faculty of Economics and Commercial Sciences / University of Djelfa / Algeria
Abstract
The present study aims at identifying the effect of organizational pressure with its aspects (management, work team, nature and conditions of work, external environment) on job performance in all its dimensions (commitment and effort made, capabilities and the rapidity of performance, motivation and job satisfaction, work environment) for the university teacher at the Faculty of Economics, Commercial and Management Sciences at the University of Djelfa, Algeria.
     In this research, the descriptive analytical approach is used. Data was collected through the distribution of a questionnaire to a sample that included 130 permanent teachers before being analyzed using the (SPSS) statistical program. A set of statistical methods has been adopted such as the arithmetic mean, the standard deviation, Pearson correlation coefficient, analysis of variance single ANOVA, and T-test.
     The research reached a number of results, including:
a strong correlation DOES exist between organizational pressures and the job performance of the university teacher at the above-mentioned faculty.
an effect relationship could be seen between the aspects of organizational pressure (management, the work team, nature and conditions of work, the external environment) and the job performance of the university teacher at the above-mentioned faculty.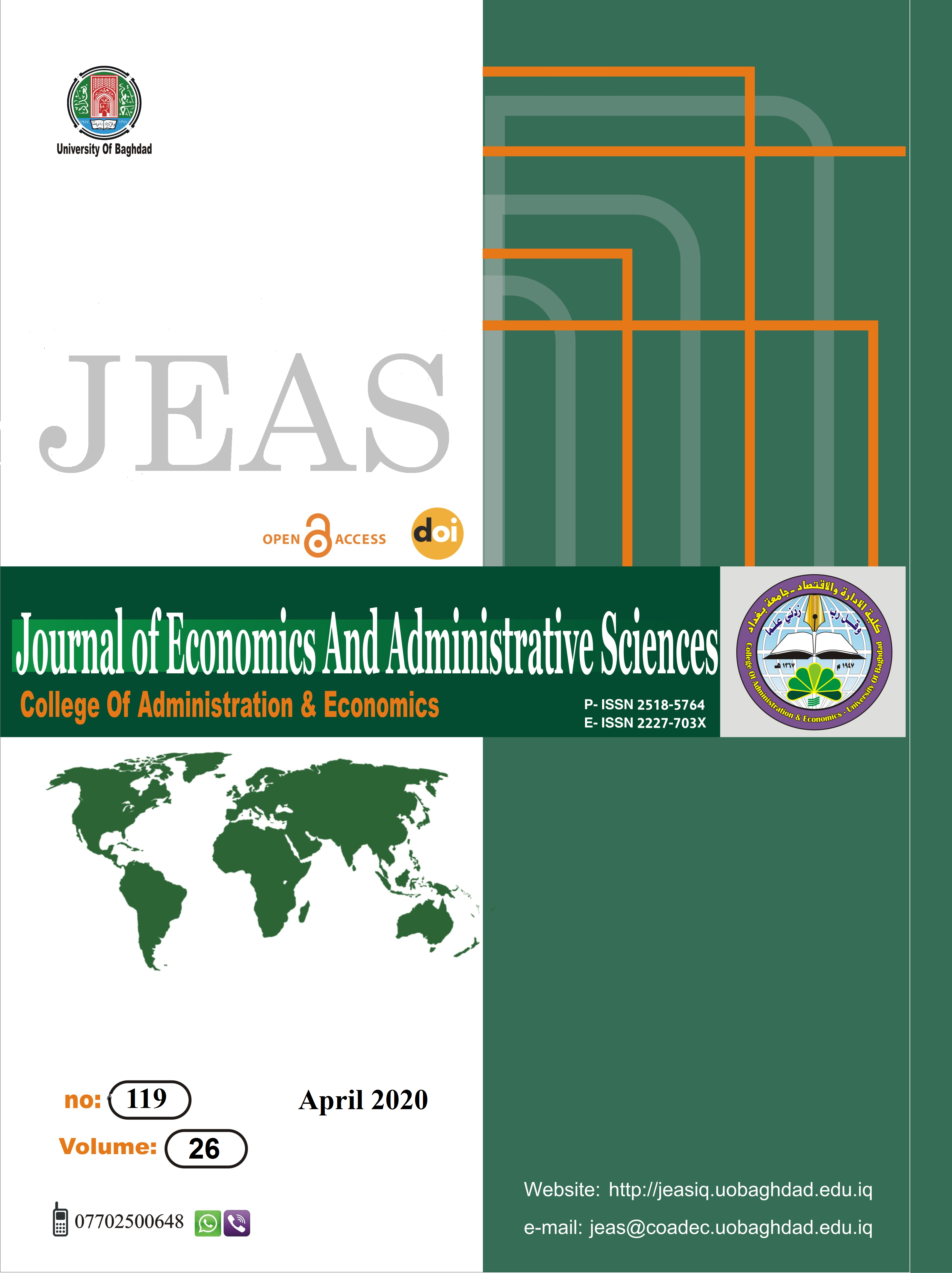 How to Cite
كسنةأ. and صوليع. (2020) "The Effect of organizational stress on the Performance of professor at the Faculty of Economics and Commercial Sciences / University of Djelfa / Algeria", Journal of Economics and Administrative Sciences, 26(119), pp. 283-304. doi: 10.33095/jeas.v26i119.1884.
Section
Managerial Researches
Articles submitted to the journal should not have been published before in their current or substantially similar form, or be under consideration for publication with another journal. Please see JEAS originality guidelines for details. Use this in conjunction with the points below about references, before submission i.e. always attribute clearly using either indented text or quote marks as well as making use of the preferred Harvard style of formatting. Authors submitting articles for publication warrant that the work is not an infringement of any existing copyright and will indemnify the publisher against any breach of such warranty. For ease of dissemination and to ensure proper policing of use, papers and contributions become the legal copyright of the publisher unless otherwise agreed.
The editor may make use of Turnitin software for checking the originality of submissions received.