Organizational Agility according to Strategic Planning Directions A case study in the Ministry of Commerce / General Company for the trade of cars and machinery
محـمد حسين علي حسين

بان عبد الامير حسين
Abstract
This research aims at the possibility of rationalizing business organizations according to the strategic planning directions which have been developed to deal with many problems faced by business organizations, including the General Company for Automobile and Machinery Trade which was chosen as a research society, and several research problems were diagnosed, including an increase in the numbers of employees who constitute hidden unemployment, lack of work in the system of job specialization, and the organizational structure which is the non-application of the company to a modern administrative model. The importance of the research is that the company being investigated is a pioneer in its field of work and seeks to achieve customer satisfaction. In order to achieve the objectives of this research, a questionnaire was designed for a deliberate sample of department managers, their assistants, and people's directors. They numbered (55) individuals, and the five-step scale (Likert) was adopted, and the results were shown based on the SPSS system and the use of statistical tools, mainly the arithmetical mean, the standard deviation, the spearman correlation coefficient, and the results of the research proved the validity of the hypotheses which The theoretical side was based on some studies and research that refer to the concept, objectives and characteristics of strategic planning and organizational agility, as well as personal interviews conducted by the researcher to enhance the research. The statistical tools used have produced a number of conclusions Concerned with the lack of rapid response to environmental changes and selection of cadres of the job in the company randomly is thoughtful and is not suitable for the movement of the environment, as well as identified recommendations, including senior management support on the preparation of studies on competitors and the need to promote their abilities and work according to overall quality management requirements.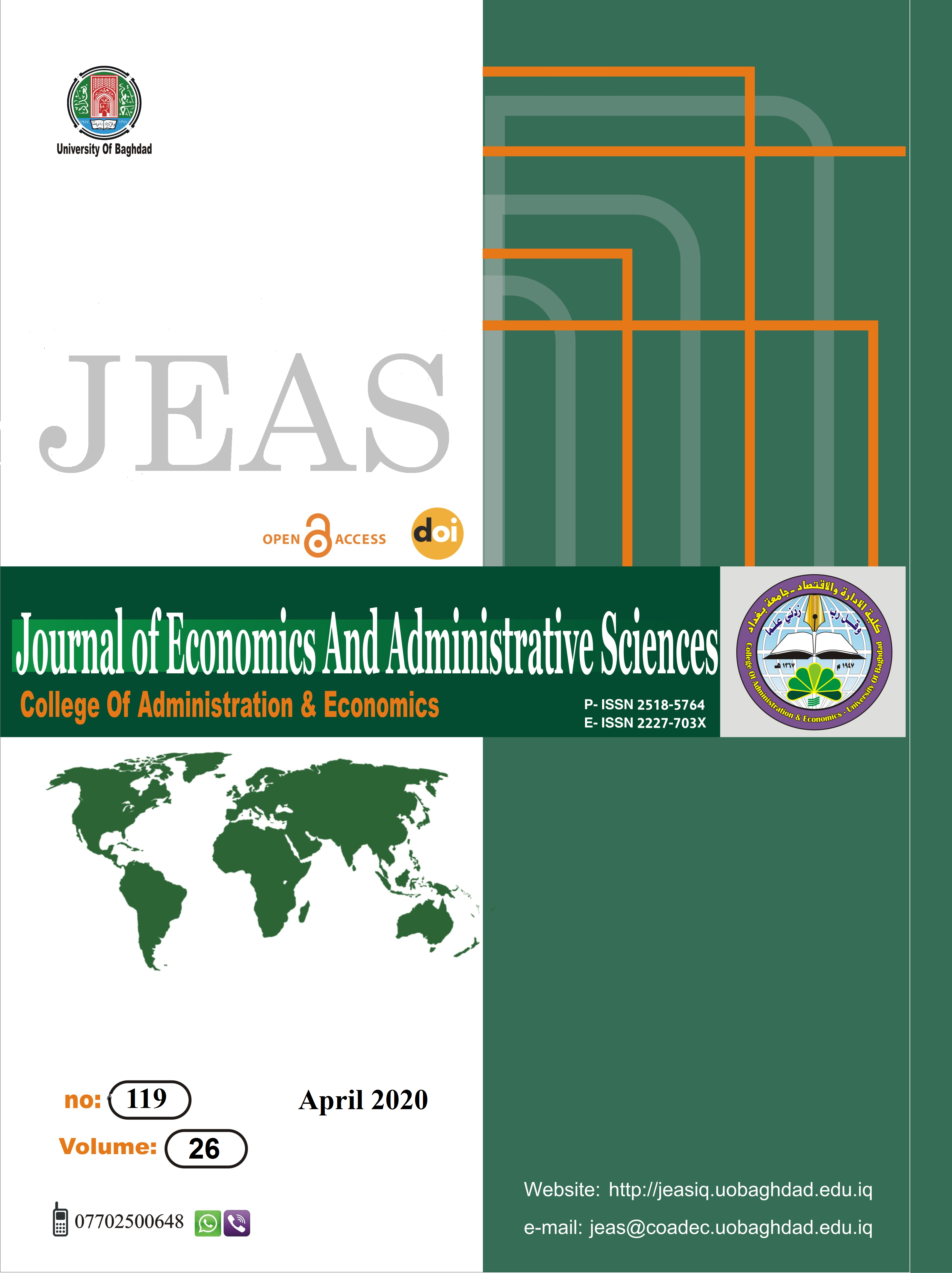 How to Cite
علي حسينم. and حسينب. (2020) "Organizational Agility according to Strategic Planning Directions A case study in the Ministry of Commerce / General Company for the trade of cars and machinery", Journal of Economics and Administrative Sciences, 26(119), pp. 186-210. doi: 10.33095/jeas.v26i119.1880.
Section
Managerial Researches
Articles submitted to the journal should not have been published before in their current or substantially similar form, or be under consideration for publication with another journal. Please see JEAS originality guidelines for details. Use this in conjunction with the points below about references, before submission i.e. always attribute clearly using either indented text or quote marks as well as making use of the preferred Harvard style of formatting. Authors submitting articles for publication warrant that the work is not an infringement of any existing copyright and will indemnify the publisher against any breach of such warranty. For ease of dissemination and to ensure proper policing of use, papers and contributions become the legal copyright of the publisher unless otherwise agreed.
The editor may make use of Turnitin software for checking the originality of submissions received.