تحليل الفجوة بين الواقع الفعلي و متطلبات المواصفة ISO14001: 2015 دراسة حالة في شركة مصافي الوسط / مصفى الدورة
Ibrahim Mohammed Zaidan

Sameer K. AL- Khateeb
Keywords:
Environmental Management System, Environmental Management Tools, ISO 14001:2015.
Abstract
يعد نظام الإدارة البيئية ( EMS ) على وفق المواصفة ISO 14001:2015 من الانظمة الإدارية الحديثة والمهمة في وقتنا الحالي، اذ هو أحد أدوات الأدارة البيئية بعّده مدخلاً للمعالجة أو الحد من المخاطر البيئية وآثارها، وبالخصوص الاثار الناجمة من الصناعة النفطية والتي تعد المصدر الرئيس للتلوث البيئي وهدر ونفاذ الموارد الطبيعية. تتجلى مشكلة الدراسة في ضعف عملية تشخيص والحد من مخاطر الجوانب البيئية وما ينجم عنها من آثار بيئية ذات أثر واضح وملموس على حياة العاملين والبيئة العامة. ان هدف الدراسة هو التعرف على مدى تطبيق نظام الإدارة البيئية في ( شركة مصافي الوسط/ مصفى الدورة) يتم ذلك من خلال تحديد حجم الفجوة في تطبيق المواصفة البيئية عن طريق استخدام قائمة الفحص ( Checklist ) وعدد من وسائل التحليل الاحصائي ( الوسط الحسابي, الاوزان , النسب المئوية ) , وتشخيص الجوانب البيئية. توصلت هذه الدراسة الى جملة من النتائج كانت اهمها وجود فجوة في تطبيق المواصفة اعلاه وبنسبة (%43) ناتجة عن ضعف في تطبيق معظم بنود المواصفة من الشركة وكذلك ضعف الاهتمام بتطبيق البرامج المخططة والمتعلقة بمعالجة أو الحد من الجوانب البيئية وتأثيراتها. تتضح القيمة المضافة في هذه الدراسة عن طريق تشخيص نقاط القوة والضعف في كل بند من بنود المواصفة البيئية مع وضع خطة عمل من اجل ألغاء أو تقليص الفجوة في الشركة المبحوثة.
نوع البحث: ورقة بحثية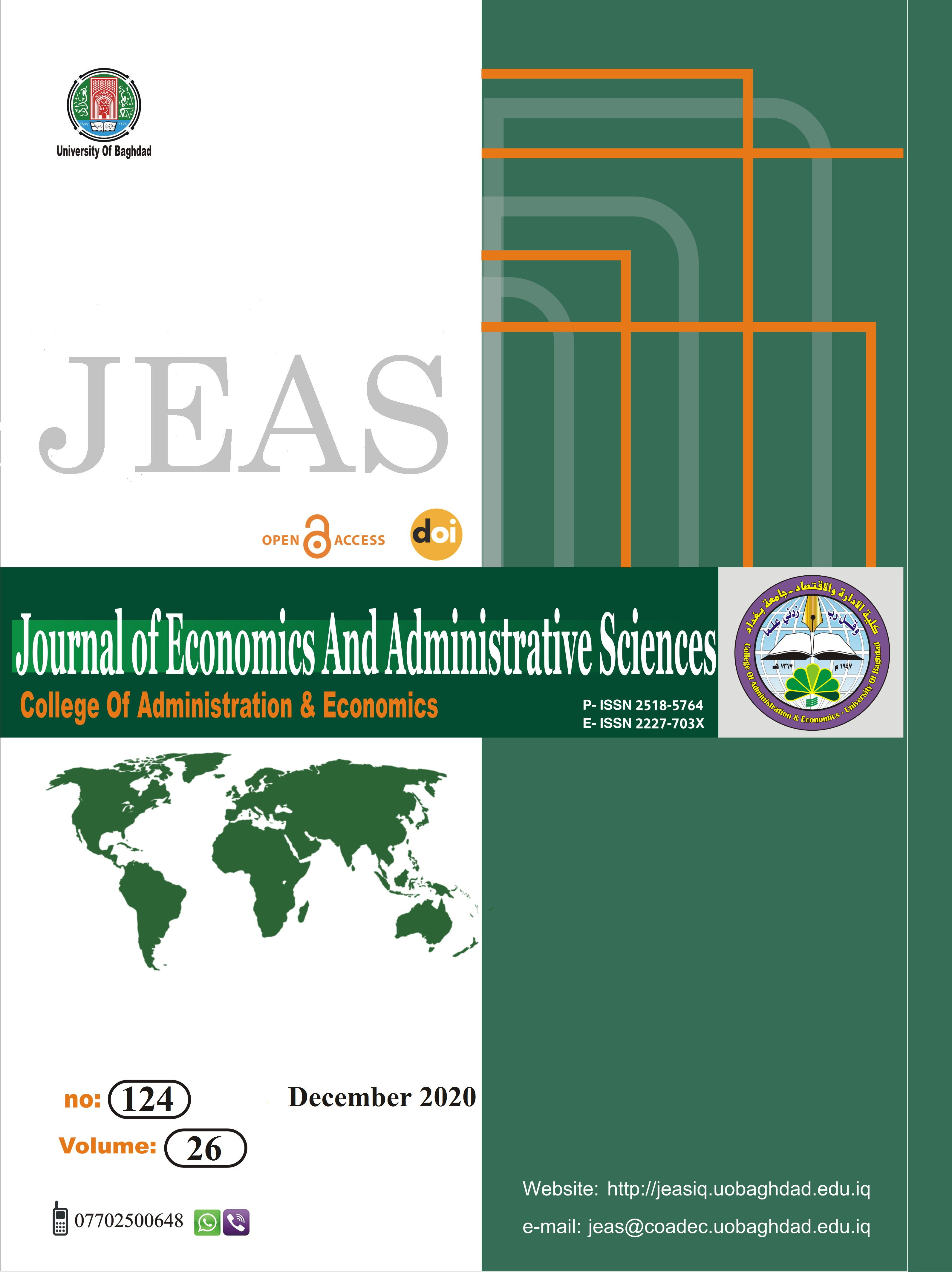 How to Cite
Mohammed Zaidan, I. and K. AL- Khateeb, S. (2020) "تحليل الفجوة بين الواقع الفعلي و متطلبات المواصفة ISO14001: 2015 دراسة حالة في شركة مصافي الوسط / مصفى الدورة", Journal of Economics and Administrative Sciences, 26(124), pp. 93-113. doi: 10.33095/jeas.v26i124.2032.
Section
Managerial Researches
Articles submitted to the journal should not have been published before in their current or substantially similar form, or be under consideration for publication with another journal. Please see JEAS originality guidelines for details. Use this in conjunction with the points below about references, before submission i.e. always attribute clearly using either indented text or quote marks as well as making use of the preferred Harvard style of formatting. Authors submitting articles for publication warrant that the work is not an infringement of any existing copyright and will indemnify the publisher against any breach of such warranty. For ease of dissemination and to ensure proper policing of use, papers and contributions become the legal copyright of the publisher unless otherwise agreed.
The editor may make use of Turnitin software for checking the originality of submissions received.