Analysis of women's job offer through entrepreneurship The case of Algeria
Lila Ayad Adrar

Ahmed Halali Adrar

Bishr Muhamed mowafak
Keywords:
عرض العمل، المرأة العاملة ،التمكين الاقتصادي، المقاولة النسوية، المشاركة الاقتصادية ،التنمية الاقتصادية.
Abstract
The aim of this scientific paper is to highlight the effective role of women working in economic development, especially those working in the entrepreneurial sector, which we see as encouraging at the macro-economic level and at the personal level, by highlighting their potential to help them enter the private labour market, value them and empower their role in the economic arena in order to win this bet to become productive and effective workers at all levels.
Through this paper, we will try to highlight the role of Algerian women's contribution to economic development through access to the world of entrepreneurship, and we will also try to find statistics on their success levels at the local and international levels.
To achieve our desired goals, we used the statistical approach by analysing some of the statistical data available to us from the World Bank and some important and specialized databases on the same subject.
The scientific authenticity of our research paper is highlighted by the added value we have achieved and the results achieved, where the most notable result was that the work of contracting is an achievement that pushes women to achieve economic savings and exceed the threshold of happiness through their ability and self-realization.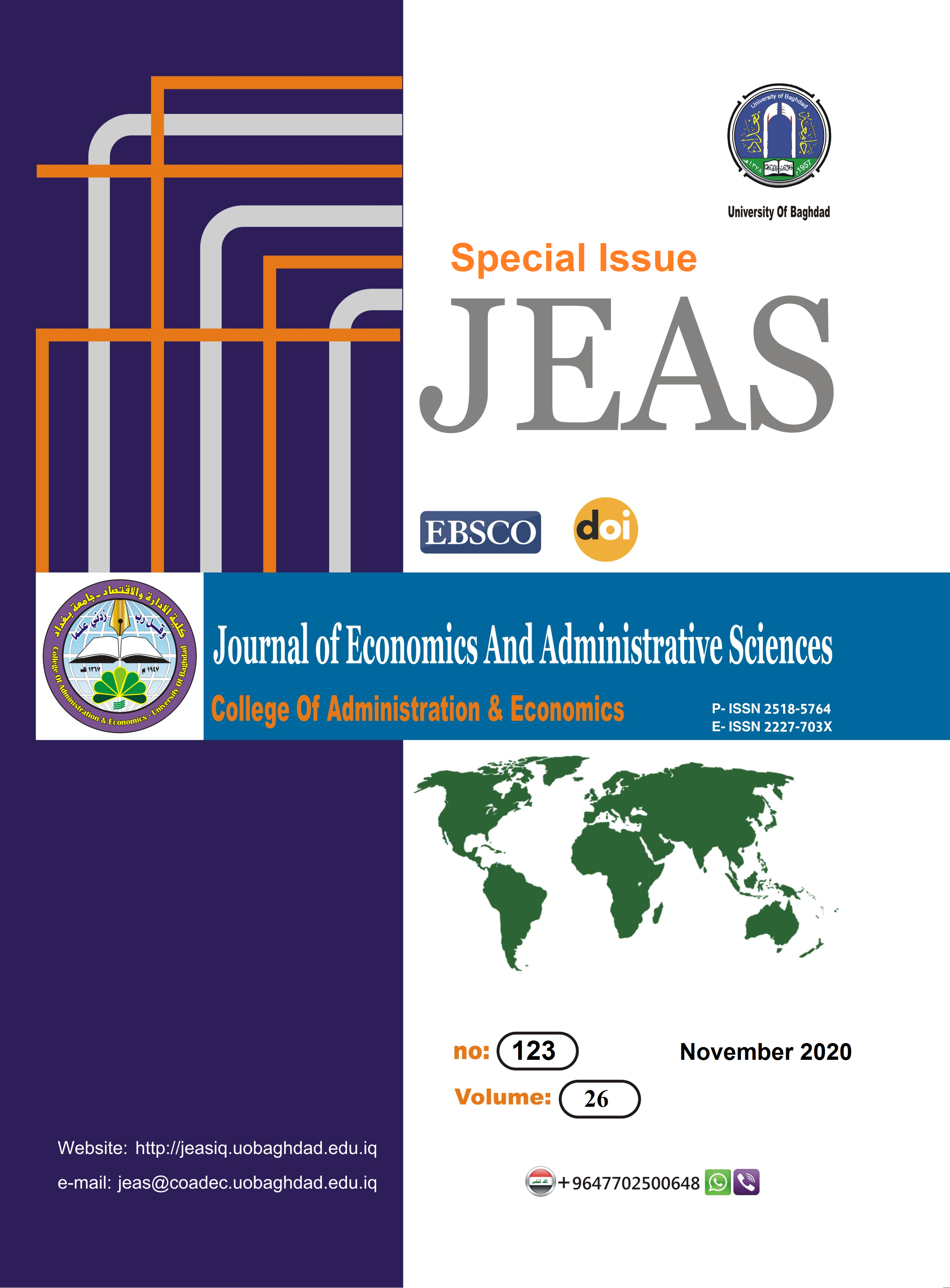 How to Cite
Adrar, L., Adrar, A. and mowafak, B. (2020) "Analysis of women's job offer through entrepreneurship The case of Algeria", Journal of Economics and Administrative Sciences, 26(123), pp. 96-109. doi: 10.33095/jeas.v26i123.1988.
Section
Managerial Researches
Articles submitted to the journal should not have been published before in their current or substantially similar form, or be under consideration for publication with another journal. Please see JEAS originality guidelines for details. Use this in conjunction with the points below about references, before submission i.e. always attribute clearly using either indented text or quote marks as well as making use of the preferred Harvard style of formatting. Authors submitting articles for publication warrant that the work is not an infringement of any existing copyright and will indemnify the publisher against any breach of such warranty. For ease of dissemination and to ensure proper policing of use, papers and contributions become the legal copyright of the publisher unless otherwise agreed.
The editor may make use of Turnitin software for checking the originality of submissions received.