Impact of credit risk on cash and undertaking credit facilities
Keywords:
مخاطر الائتمان, القروض, التسهيلات الائتمانية, الائتمان ., Credit Risk, Loans, Credit Facilities, Credit.
Abstract
The aim of this research is to demonstrate the impact of credit risk on the banks of the study sample on the granting of loans and credit facilities, and try to reduce the size of credit risk to banks as a result of granting loans and credit facilities, credit risk is the oldest form of risk in financial markets. Every financial institution takes a degree of risk when it gives loans and credit facilities to companies and customers, It is exposed to financial losses when some borrowers fail to repay their loans as agreed, and at the same time credit facilities are the most profitable operations of the bank as it is the most profitable banking operations than other operations, so it represents the research community of private banks listed in the Iraq Stock Exchange, The research sample consisted of 14 banks (Shareholding company) selected from 37 banks listed on the Iraq Stock Exchange, Stretched the duration of the research during the years (2012-2017), A set of indicators and financial methods were used to measure research variables, As well as relying on the method of tablet data (Panel data) in the analysis of the relationship between variables and test hypotheses research, The study concluded that there was no statistically significant effect of credit risk indicators on credit facilities.
Downloads
Download data is not yet available.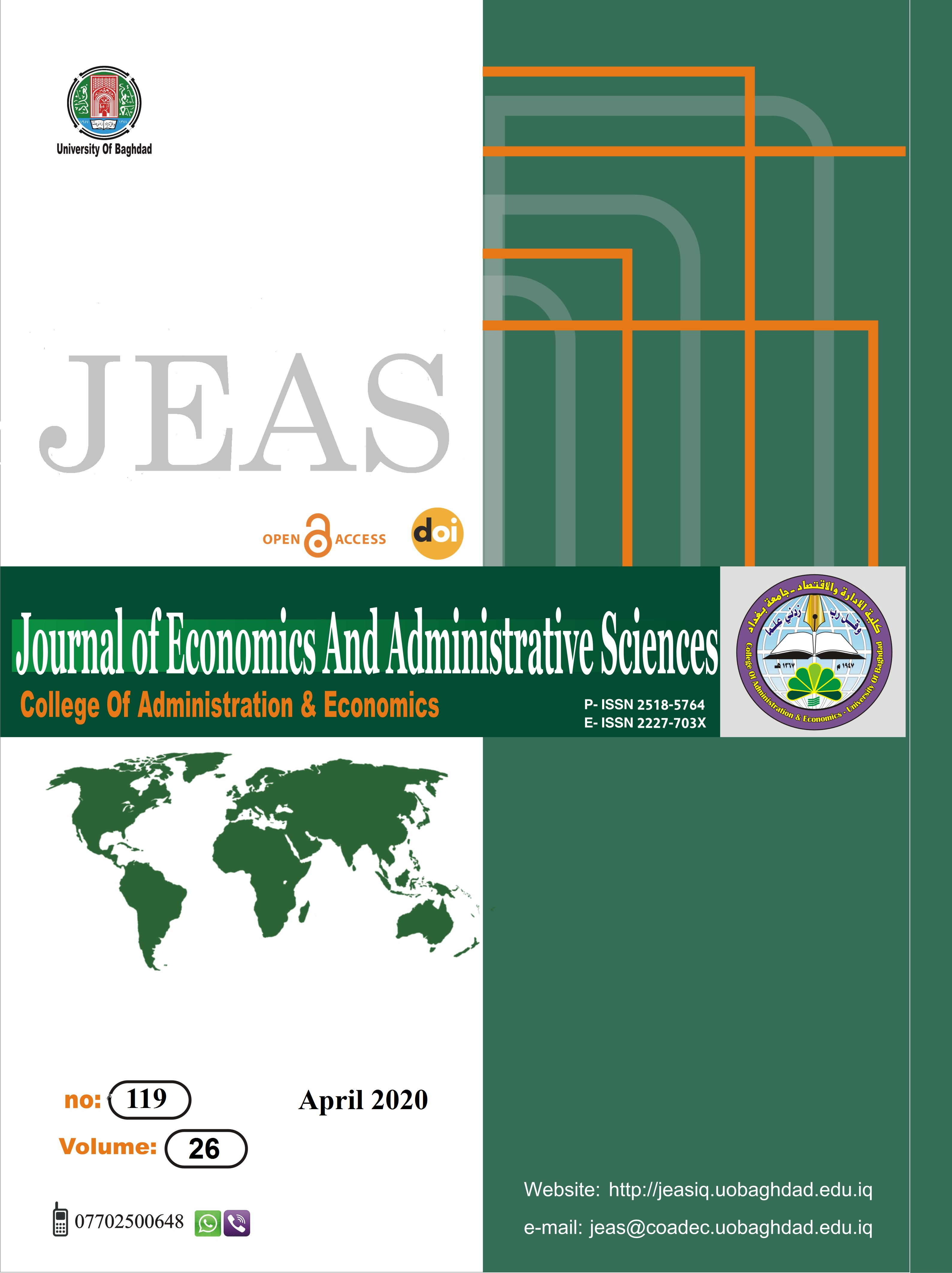 How to Cite
محمد أ. ط. and حميد ا. ط. (2020) "Impact of credit risk on cash and undertaking credit facilities", Journal of Economics and Administrative Sciences, 26(119), pp. 120–140. doi: 10.33095/jeas.v26i119.1877.
Section
Managerial Researches
License
This work is licensed under a Creative Commons Attribution-NonCommercial-NoDerivatives 4.0 International License.
Articles submitted to the journal should not have been published before in their current or substantially similar form, or be under consideration for publication with another journal. Please see JEAS originality guidelines for details. Use this in conjunction with the points below about references, before submission i.e. always attribute clearly using either indented text or quote marks as well as making use of the preferred Harvard style of formatting. Authors submitting articles for publication warrant that the work is not an infringement of any existing copyright and will indemnify the publisher against any breach of such warranty. For ease of dissemination and to ensure proper policing of use, papers and contributions become the legal copyright of the publisher unless otherwise agreed.
The editor may make use of Turnitin software for checking the originality of submissions received.