Financing and its impact on municipal performance in the municipalities of Missan governorate for the period (2011-2018)
ولاء اسماعيل عبد اللطيف

عباس رحيمة غانم
Keywords:
: financing in its various forms (government and self), performance, and financial performance.
Abstract
The research aims to show the role or extent of the impact of financing in its various forms on the municipal performance before and after the financial deficit through relying on the analytical research methodology of the research community represented by the Directorate General of Municipalities and the Directorate of Maysan municipalities as a sample of research (13) municipal institutions for a period of (8) years, Considering the completion of the final accounts of these years, which provides the necessary data for the study, in addition to the variation in the quality and amounts of grants allocated to municipal institutions during these years, which gives a clearer and more comprehensive picture of the reality of allocations received by municipal institutions before and after the financial crisis, using three financial analysis tools (horizontal, vertical, and percentage analysis). Among the statistical analysis tools (SPSS), the Pearson correlation coefficient was used (to calculate the correlation between finance and municipal performance), and analysis of multiple linear regression coefficients. The researcher relied on the financial data contained in the official records and documents of the municipal institutions studied.                        
The main findings of the research are that municipal performance depends on the availability of funding to support the activities of municipal institutions. It depends on the central budget to cover all financial needs and this exposes them to the risk of facing the lack of financial resources. Central funding is characterized by fluctuation and instability in terms of its impact on external conditions and the general situation of the state, while self-financing is characterized by flexibility and the ability to continue whenever more attention to confiscation and areas of diversity.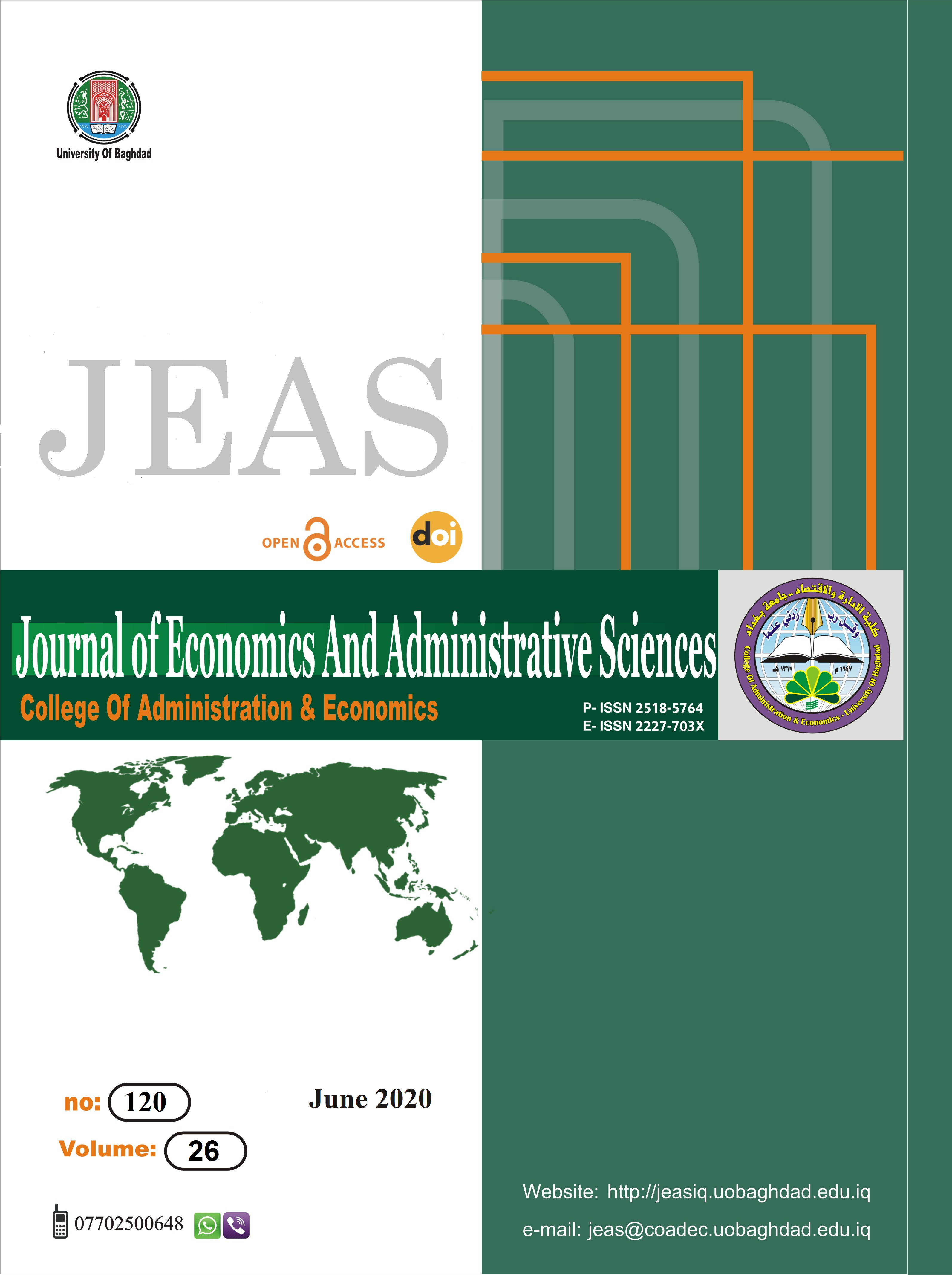 How to Cite
عبد اللطيفو. and غانمع. (2020) "Financing and its impact on municipal performance in the municipalities of Missan governorate for the period (2011-2018)", Journal of Economics and Administrative Sciences, 26(120), pp. 168-190. doi: 10.33095/jeas.v26i120.1911.
Section
Managerial Researches
Articles submitted to the journal should not have been published before in their current or substantially similar form, or be under consideration for publication with another journal. Please see JEAS originality guidelines for details. Use this in conjunction with the points below about references, before submission i.e. always attribute clearly using either indented text or quote marks as well as making use of the preferred Harvard style of formatting. Authors submitting articles for publication warrant that the work is not an infringement of any existing copyright and will indemnify the publisher against any breach of such warranty. For ease of dissemination and to ensure proper policing of use, papers and contributions become the legal copyright of the publisher unless otherwise agreed.
The editor may make use of Turnitin software for checking the originality of submissions received.