التطورات العالمية وانعكاساتها على تنافسية الصناعة في العراق دولياً - بحث نظري
asraa muhamad nadhir

Thaer Mahmoud Rashid Al-Ani
Keywords:
التطورات العالمية ، القدرة التنافسية الصناعية , الانفتاح الاقتصادي التجاري , الاسواق التنافسية , السعر التنظيمي ., global developments , industrial competitiveness , Trade economic openness, competitive markets, regulatory price.
Abstract
خلال الربع الأخير من القرن العشرين ، شهد الاقتصاد العالمي تحولا في مختلف المجالات التجارية والتكنولوجية والمالية التي غيرت هيكلها وأنتجت وضعا جديدا يتمثل بشكل رئيس في زيادة حركة رأس المال الأجنبي والتوسع السريع للإنتاج الدولي والتجارة بالإضافة إلى التطور التكنولوجي الهائل ونقل التكنولوجيا ، مما أدى إلى هوس الدول بالمنافسة على المستوى العالمي والسعي لدخول الأسواق الدولية وتحسين قدرتها التنافسية. وتم الاتفاق على أن هذه العوامل هي من تجليات شعار الانفتاح الاقتصادي والتجاري المعتمد من أجل سوق عالمي يحقق مكاسب ونمو للجميع. يعتبر القطاع الصناعي من أكثر القطاعات تعرضاً لتأثيرات المتغيرات في البيئة الاقتصادية الدولية ، بشكل يجعل الصناعة المحلية في العراق أكثر هشاشة مع مرور الوقت ، حيث تواجه منافسة حادة مع المؤسسات العالمية أصبحت تسيطر على العالم ، وهذه المنافسة لا تؤثر على مؤسسات الدول النامية التي تستهدف الأسواق المحلية كذلك. هذا في بيئة الأسواق والمنافسة ، ومن هنا أصبح من الضروري الاستجابة لهذه التحديات من خلال العمل على تطوير قدرتها التنافسية لضمان استمراريتها وبقائها التي تتحكم فيها مجموعة من المحددات التي تختلف طبيعتها بين السعر ، السعر التنظيمي ، التيسير التقني ... إلخ. أما بالنسبة للقطاع الصناعي في العراق في ظل المرحلة الحالية ، فقد ورث واقعًا صناعيًا يتسم بالتخلف ومكبل بالعديد من المشاكل والعقبات التي تحد من نشاطه وقدرته على العمل في ظل السياسة الاقتصادية الجديدة التي تتميز بحرية التجارة و اعتماد آليات السوق والمعايير الاقتصادية في تخصيص الموارد. وسنستعرض أهمها الصناعية والتكنولوجية الدولية. ضمن مؤشرات التنافسية العالمية.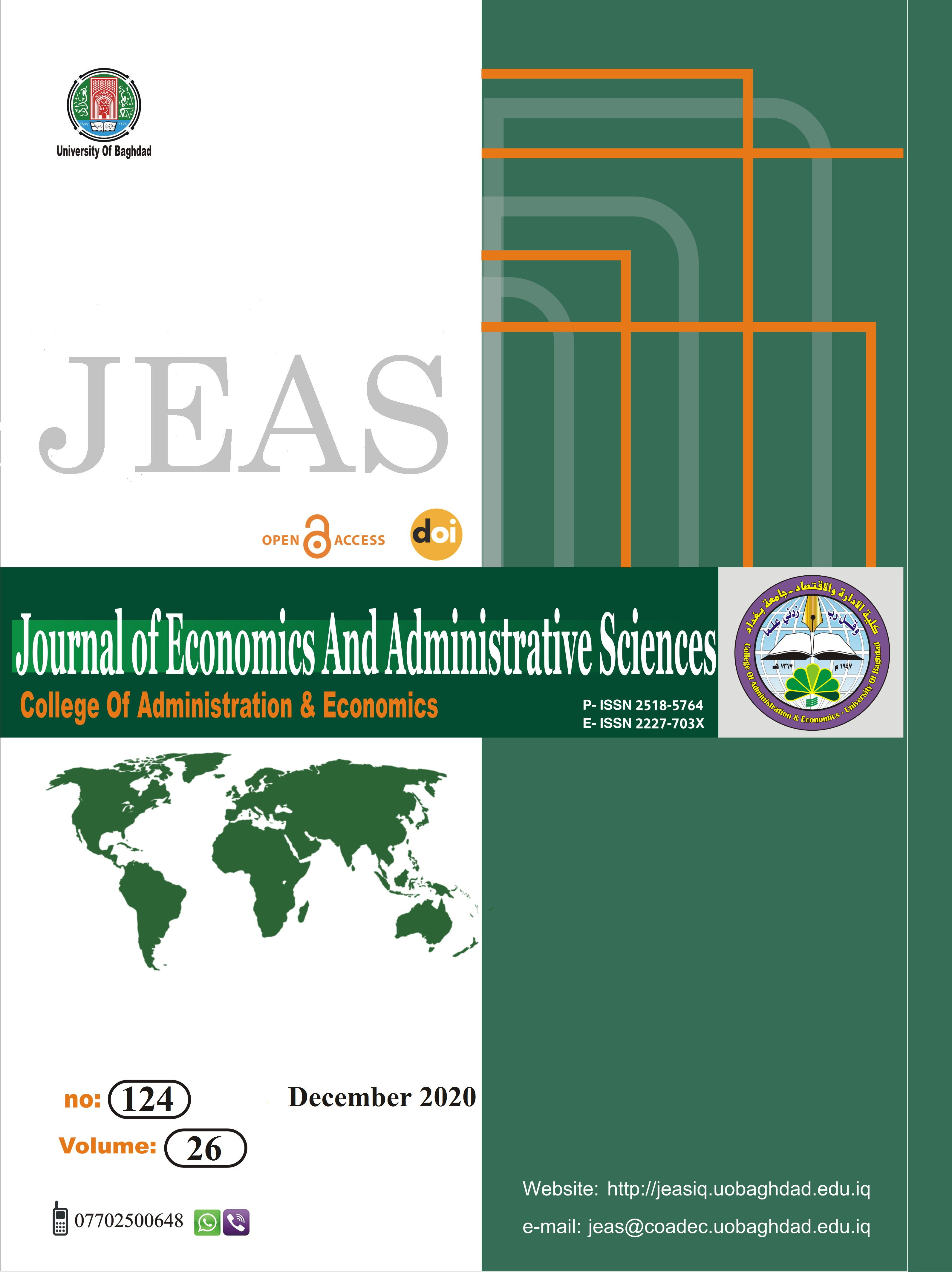 How to Cite
nadhir, asraa and Rashid Al-Ani, T. (2020) "التطورات العالمية وانعكاساتها على تنافسية الصناعة في العراق دولياً - بحث نظري", Journal of Economics and Administrative Sciences, 26(124), pp. 341-361. doi: 10.33095/jeas.v26i124.2044.
Section
Economics Researches
Articles submitted to the journal should not have been published before in their current or substantially similar form, or be under consideration for publication with another journal. Please see JEAS originality guidelines for details. Use this in conjunction with the points below about references, before submission i.e. always attribute clearly using either indented text or quote marks as well as making use of the preferred Harvard style of formatting. Authors submitting articles for publication warrant that the work is not an infringement of any existing copyright and will indemnify the publisher against any breach of such warranty. For ease of dissemination and to ensure proper policing of use, papers and contributions become the legal copyright of the publisher unless otherwise agreed.
The editor may make use of Turnitin software for checking the originality of submissions received.