The Impact of Entrepreneur Decision Making on Ambidexterity Performance: An Applied Research in the Oil Products Distribution Company/ aldawra
Keywords:
Entrepreneur Decision Making , Ambidexterity Performance
Abstract
The research aims to determine the role of Entrepreneur decision-making in its dimensions in improving the activities of Ambidexterity performance in its dimensions in the researched company. The importance of the research is also evidenced by assisting the oil products distribution company/session in directing the interest of the researched company because it has a prominent role in the Iraqi industrial community for the Entrepreneur decision-making variable that Contributes to building sustainable competitive advantage. This will happen when the company has an Entrepreneur orientation and a good strategic plan is built by the smart leaders in the researched company The researcher adopted the method of the analytical approach to carry out the research, and the research community represented by the Petroleum Products Distribution Company was selected, and the administrative leaderships were chosen, in addition to choosing the intentional sample method, as the research sample reached (164) persons distributed to the administrative leadership, and the questionnaire was adopted as the main tool in the research Based on personal interviews and supported by checklist, field visits and personal observation, (Spss v.23) and (Microsoft Office 2010) were used, The research summarized many results, the most important of which was achieved most of the paragraphs of the dimensions of pioneering decision-making and clever performance of importance for the oil products distribution company
Downloads
Download data is not yet available.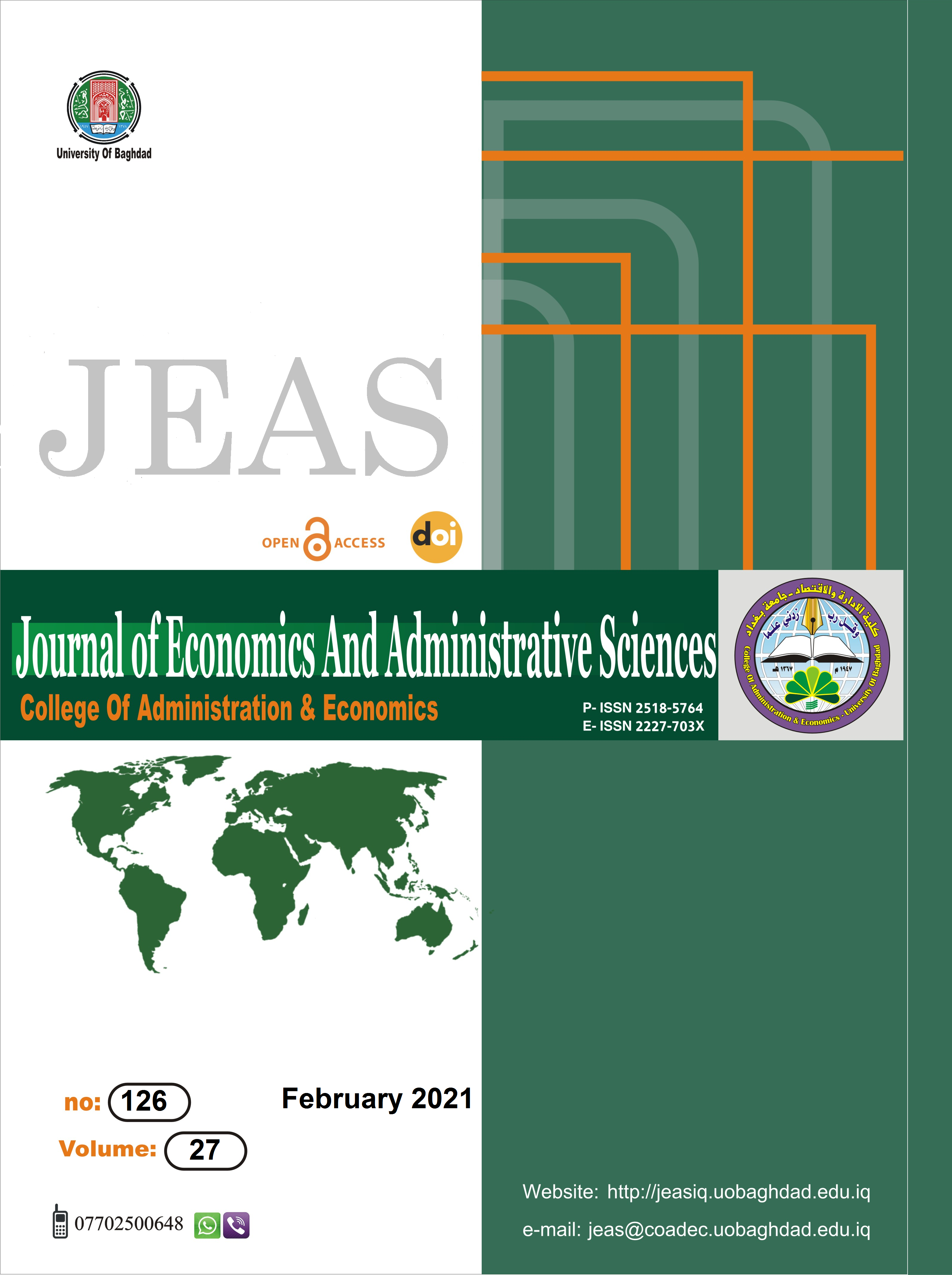 How to Cite
abdalkareem, A. muayad and Dawood, F. S. (2021) "The Impact of Entrepreneur Decision Making on Ambidexterity Performance: An Applied Research in the Oil Products Distribution Company/ aldawra", Journal of Economics and Administrative Sciences, 27(126), pp. 107–126. doi: 10.33095/jeas.v27i126.2099.
Section
Managerial Researches
License
This work is licensed under a Creative Commons Attribution-NonCommercial-NoDerivatives 4.0 International License.
Articles submitted to the journal should not have been published before in their current or substantially similar form, or be under consideration for publication with another journal. Please see JEAS originality guidelines for details. Use this in conjunction with the points below about references, before submission i.e. always attribute clearly using either indented text or quote marks as well as making use of the preferred Harvard style of formatting. Authors submitting articles for publication warrant that the work is not an infringement of any existing copyright and will indemnify the publisher against any breach of such warranty. For ease of dissemination and to ensure proper policing of use, papers and contributions become the legal copyright of the publisher unless otherwise agreed.
The editor may make use of Turnitin software for checking the originality of submissions received.