The Effectiveness of Indicators of Financial Discipline in Strengthening the Exchange Rate, with a Special Reference to Iraq
Keywords:
(The Iraqi economy, indicators of financial discipline, the Iraqi dinar exchange rate)
Abstract
Controlling public expenditures is one of the main objectives of the public budget. The public budget often suffers from a deficit, whether in developed or developing countries, because expenditures are usually greater than the revenues generated. This requires the existence of financial rules that are adhered to by the government, which in turn leads to discipline. Fiscal policy leads to a reduction in the obligations incumbent on the government.  Adhering to the financial rules would correct the course of fiscal policy in Iraq, with the need to direct oil revenues in the years of financial abundance when global oil prices rise to sovereign funds similar to other rentier countries, which contributes to maintaining the stability of the exchange rate and reducing dependence on The Central Bank. It performs monetary sterilization operations to sterilize the negative effects resulting from the lack of fiscal policy discipline, which negatively affects the foreign currency reserves and depletes them. The main conclusion reached by the research is that there is a state of financial indiscipline that has negatively affected the Iraqi dinar exchange rate, and that the attempts of the Central Bank of Iraq have partially worked to reduce the negative effects of the expansionary financial policy, and the main recommendation of the research was to work to achieve more discipline in fiscal policy in order to reduce the state of economic instability and mitigate the monetary sterilization policy by The Central Bank and the accompanying depletion of hard currency
Downloads
Download data is not yet available.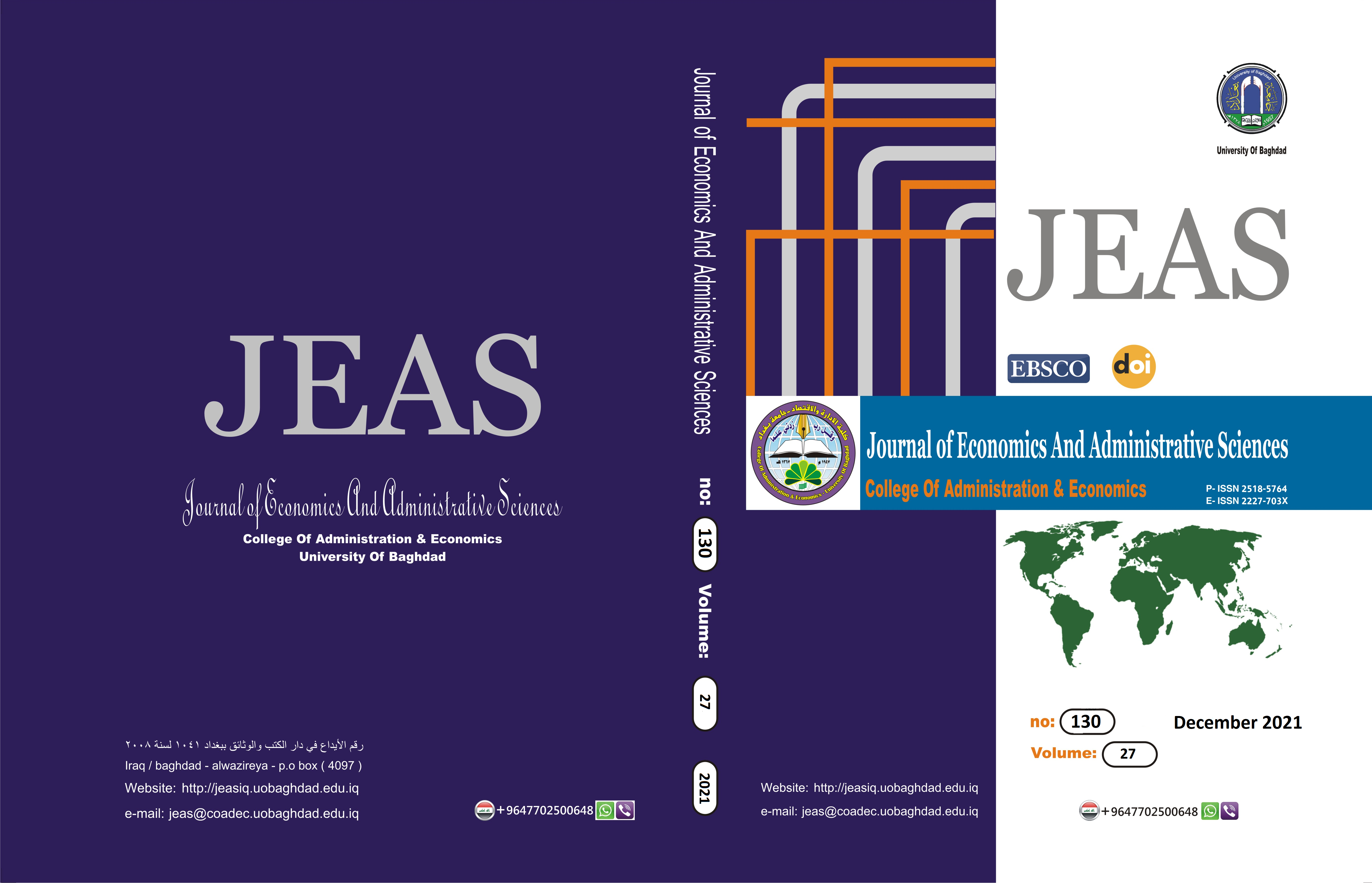 How to Cite
Fenjan, K. M. and Salman, M. S. (2021) "The Effectiveness of Indicators of Financial Discipline in Strengthening the Exchange Rate, with a Special Reference to Iraq", Journal of Economics and Administrative Sciences, 27(130), pp. 118–141. doi: 10.33095/jeas.v27i130.2198.
Section
Economics Researches
License
Articles submitted to the journal should not have been published before in their current or substantially similar form, or be under consideration for publication with another journal. Please see JEAS originality guidelines for details. Use this in conjunction with the points below about references, before submission i.e. always attribute clearly using either indented text or quote marks as well as making use of the preferred Harvard style of formatting. Authors submitting articles for publication warrant that the work is not an infringement of any existing copyright and will indemnify the publisher against any breach of such warranty. For ease of dissemination and to ensure proper policing of use, papers and contributions become the legal copyright of the publisher unless otherwise agreed.
The editor may make use of Turnitin software for checking the originality of submissions received.