Internal Debt Options during the Two Double Shocks and Its Impact on Foreign Reserve in Iraq
Keywords:
Internal Debt, Foreign Reserve, shocks
Abstract
The research aims at a statement Internal Debt options during shocks and the impact of this borrowing in the volume of the foreign reserve, using induction and deduction with available data analysis. During the period (2004-2013) did not require the use of borrowing across (financial institutions, discounted transfers, bonds); it was only sufficient by transfer with commercial banks that can finance of temporary budget deficits: rose and decline of volume of foreign reserve according to the changes of oil prices and the volume of purchases and sales of the Central Bank of Iraq. Central Bank of Iraq (CBI) has significantly contributed to Internal Debt through bond and discounted transfers in the secondary market; thus, funding the public budget and sustaining the momentum of battles during the first double shock (2014-2017), which reflected how it is negatively affected the volume of foreign reserve, in other words, reduction the proportion of foreign assets to local assets. The second double crisis (2020) reduced the exchange rate of the Iraqi dinar against the US dollar, which was reflected at high prices; inflation reached (5.6) at the end of the first half of 2020, which means adopting a new choice to finance the budget deficit. This means that there is an inverse relationship between the volume of foreign reserve and internal debt, where decrease volume of foreign reserve during two double shocks
Downloads
Download data is not yet available.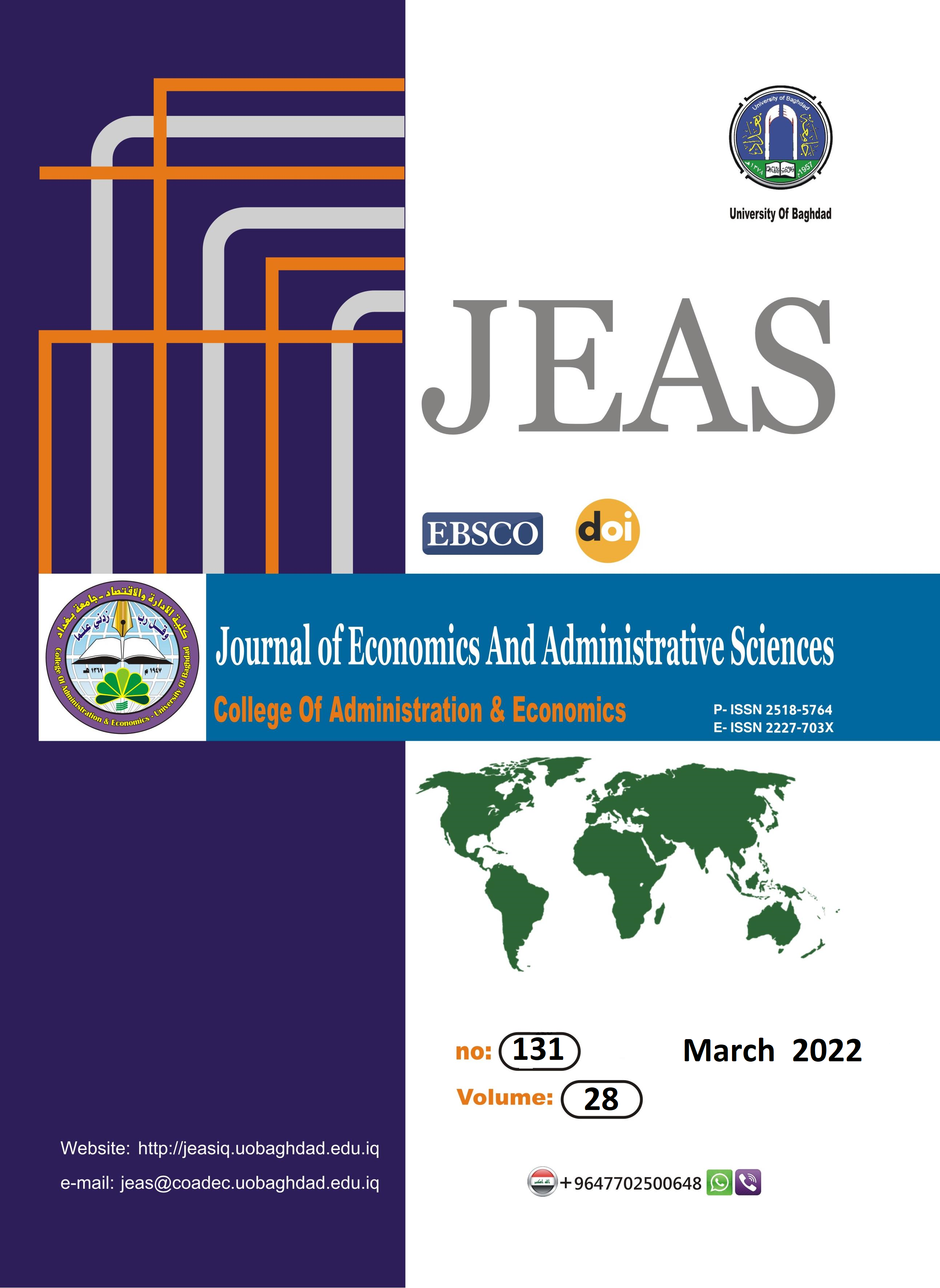 How to Cite
Lafta, H. H. . and Jawad , S. F. . (2022) "Internal Debt Options during the Two Double Shocks and Its Impact on Foreign Reserve in Iraq", Journal of Economics and Administrative Sciences, 28(131), pp. 119–132. doi: 10.33095/jeas.v28i131.2237.
Section
Economics Researches
License
This work is licensed under a Creative Commons Attribution-NonCommercial-NoDerivatives 4.0 International License.
Articles submitted to the journal should not have been published before in their current or substantially similar form, or be under consideration for publication with another journal. Please see JEAS originality guidelines for details. Use this in conjunction with the points below about references, before submission i.e. always attribute clearly using either indented text or quote marks as well as making use of the preferred Harvard style of formatting. Authors submitting articles for publication warrant that the work is not an infringement of any existing copyright and will indemnify the publisher against any breach of such warranty. For ease of dissemination and to ensure proper policing of use, papers and contributions become the legal copyright of the publisher unless otherwise agreed.
The editor may make use of Turnitin software for checking the originality of submissions received.