The Impact of Governance Mechanisms on the Accounting Disclosure of the Sustainable Development of Iraqi Economic Units
Keywords:
Governance Mechanisms, Accounting disclosure for sustainable development., آليات الحوكمة، الإفصاح المحاسبي عن التنمية المستدامة.
Abstract
The research aims to demonstrate the impact of governance mechanisms on the quality of financial reports in the light of the accounting disclosure for sustainable development represented in (accounting disclosure for economic development, accounting disclosure for environmental development, and accounting disclosure for social development) in a sample of banks listed in the Iraq Stock Exchange.
Governance mechanisms were measured by evaluating and analyzing the mechanisms in banks for the research sample consisting of (15) banks, based on the governance guide issued by the Central Bank, as well as the banks' financial reports for the years 2016 -2018, and the dimensions of accounting disclosure for sustainable development were measured through the use of a form. The survey, which is one of the sources of obtaining data and information related to the accounting disclosure on sustainable development. In preparing the form, the researcher relied mainly on the indicators issued by the (GRI), especially the index (G4), and the form (70) forms were distributed to a sample of bank employees, the sample of the research.
 The study model and hypothesis were built based on the literature of previous studies, and the simple and multiple linear regression method was used to test the hypotheses. Senior management and lack of transparency in information disclosure and financial reporting, and the most important thing that the research recommends is activating governance mechanisms in banks that have a positive impact on the relationship between accounting disclosure for sustainability. Development, as it limits the opportunistic behavior of management and encourages banks to achieve more transparency in financial reporting.
Downloads
Download data is not yet available.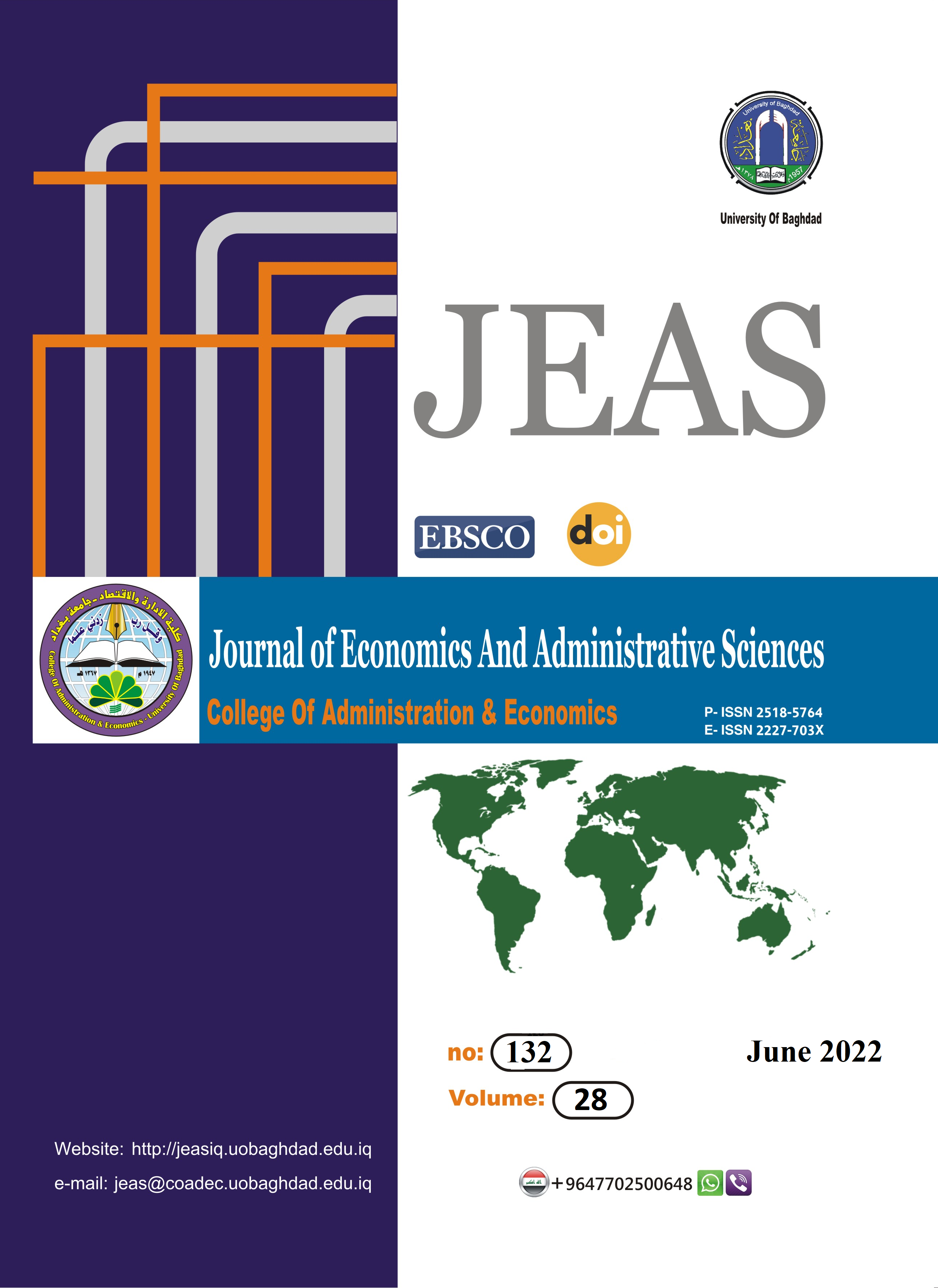 How to Cite
Nazar Mostafa AL-Sarraf, S. . and Fadil Al-Taie, B. . (2022) "The Impact of Governance Mechanisms on the Accounting Disclosure of the Sustainable Development of Iraqi Economic Units", Journal of Economics and Administrative Sciences, 28(132), pp. 233–251. doi: 10.33095/jeas.v28i132.2286.
Section
Accounting Researches
License
This work is licensed under a Creative Commons Attribution-NonCommercial-NoDerivatives 4.0 International License.
Articles submitted to the journal should not have been published before in their current or substantially similar form, or be under consideration for publication with another journal. Please see JEAS originality guidelines for details. Use this in conjunction with the points below about references, before submission i.e. always attribute clearly using either indented text or quote marks as well as making use of the preferred Harvard style of formatting. Authors submitting articles for publication warrant that the work is not an infringement of any existing copyright and will indemnify the publisher against any breach of such warranty. For ease of dissemination and to ensure proper policing of use, papers and contributions become the legal copyright of the publisher unless otherwise agreed.
The editor may make use of Turnitin software for checking the originality of submissions received.