اصلاح واقع الموازنة العامة في العراق وفق معايير الكفاءة التخصيصية دراسة تحليلية للفترة 2004-2018
زياد خلف خليل

سمر نعمان نوروز
Abstract
الموازنة العراقية قبل عام 2003 تعاني من مشكله العجز فعلي بسبب انخفاض كمية تصدير النفط وانخفاض ايرادات الدولة ولكن بعد عام 2003 وبعد تحسن الوضع المالي للبلد (زيادة ايرادات الدولة) بسبب فك الحصار عن العراق وزيادة كميات النفط المصدرة اصبحت المشكلة التي تعاني منها الموازنة العامة هي العجز المخطط من عام (2004- 2018) .وبسبب الاعتماد على الايرادات النفطية نلاحظ في حالة زيادة اسعار النفط تزداد ايرادات الدولة فيزداد التبذير والاسراف في الانفاق كما حدث في عام 2011 و2012 , وفي حالة انخفاض اسعار النفط تقلص الدولة من نفقاتها كما حدث في عام 2014 وارتفاع تكاليف الحرب ضد داعش عملت الدولة على اتباع السياسة التقشفية. وكذلك يعاني العراق في اعداد الموازنة العامة للدولة بالاعتماد على الموازنة التقليدية (موازنة البنود) وهي موازنه اصبحت لا تتناسب مع حجم التطورات الحاصلة في الانفاق وزياده النفقات الجارية وضعف النفقات الاستثمارية لذلك لا بد من تغير نوع الموازنة التي يعتمدها البلد في اعداد الموازنة العامة لغرض تحسين وضع الاقتصادي للبلد. من اجل مساعدة المسؤولين على اعداد الموازنة العامة ,من خلال العلاقة بين الموازنة الفعلية والموازنة التقديرية تم تحليل النفقات الفعلية والتقديرية والمقارنة بين الفعلي والمخطط بالاعتماد على مؤشرات الكفاءة التخصيصية لغرض تشخيص الانحرافات ومعالجتها من خلال الاعتماد على قوانين في وضع التقديرات تكون مستندة على اسس علمية دقيقة.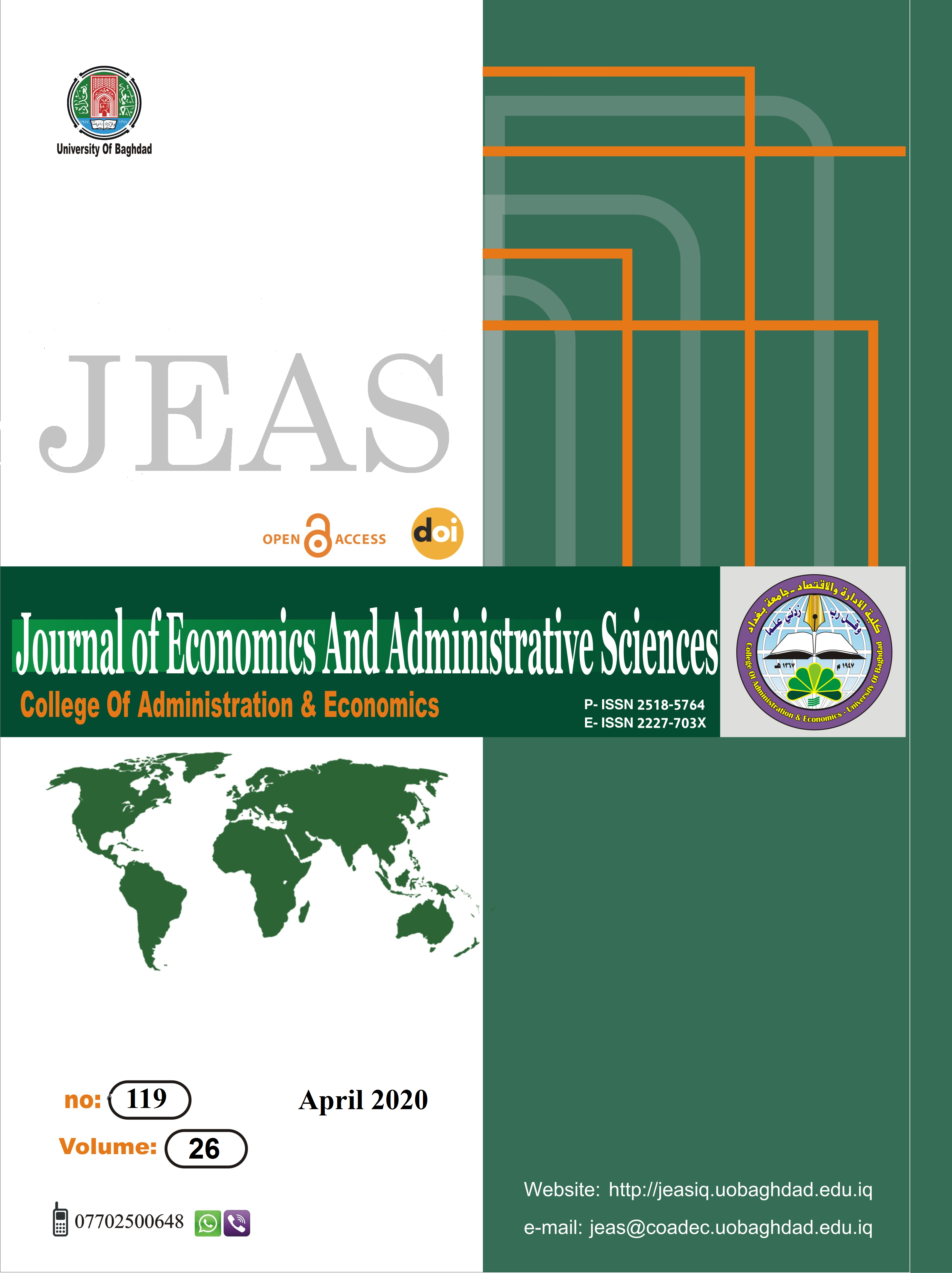 How to Cite
خليلز. and نوروزس. (2020) "اصلاح واقع الموازنة العامة في العراق وفق معايير الكفاءة التخصيصية دراسة تحليلية للفترة 2004-2018", Journal of Economics and Administrative Sciences, 26(119), pp. 392-404. doi: 10.33095/jeas.v26i119.1889.
Section
Economics Researches
Articles submitted to the journal should not have been published before in their current or substantially similar form, or be under consideration for publication with another journal. Please see JEAS originality guidelines for details. Use this in conjunction with the points below about references, before submission i.e. always attribute clearly using either indented text or quote marks as well as making use of the preferred Harvard style of formatting. Authors submitting articles for publication warrant that the work is not an infringement of any existing copyright and will indemnify the publisher against any breach of such warranty. For ease of dissemination and to ensure proper policing of use, papers and contributions become the legal copyright of the publisher unless otherwise agreed.
The editor may make use of Turnitin software for checking the originality of submissions received.