Impact the Organizational downsizing in organizational health: Analytical research in the Directorate of Education in Nineveh
Sanaa Khdir Yousif

Alaa Abdulmawjood AL-Aa'ni

Ahmed Muyasser A. Jader
Keywords:
الترشيق التنظيمي، إعادة تصميم العمل، الاستراتيجية النظامية، الصحة التنظيمية, organizational downsizing, job redesign, systemic strategy, organizational health.
Abstract
This research aims to determine the extent of the contribution of organizational downsizing strategies to enhance the health of the researched organization represented by the Directorate of Education in Nineveh, and to achieve this goal, the study provided a simplified intellectual framework for the most important topics covered by writers and researchers for search variables, reinforced by an applied analytical framework for the opinions of (79) individuals responsible for the researched organization. The research adopted organizational downsizing as an independent variable that includes three dimensions represented by (reduction of human resources, job redesign, systemic strategy), while the organizational health represented the variable adopted in the research. The study used the questionnaire as the main tool for collecting data from the practical side of the research, and some statistical treatments were carried out for the data through the use of statistical methods represented by measures of central tendency, correlation coefficients and regression line equation in order to test the hypotheses adopted by the research which expressed the presence of a significant effect between organizational leanness and organizational health. What explains to us is that what shows us that relying on reducing the organizational size through one of its strategies contributes to improving the level of organizational health in the field studied.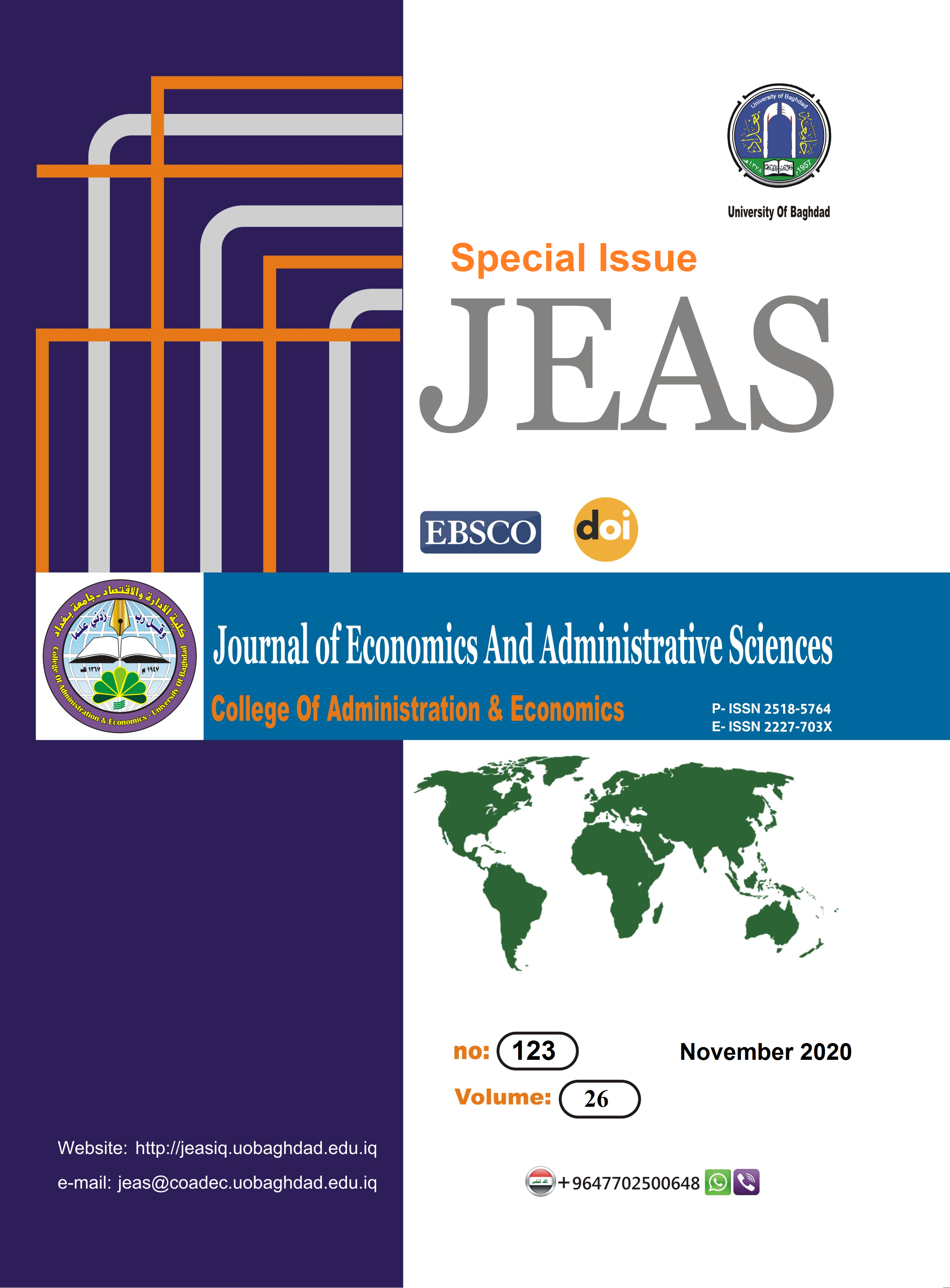 How to Cite
Yousif, S., AL-Aa'ni, A. and A. Jader, A. (2020) "Impact the Organizational downsizing in organizational health: Analytical research in the Directorate of Education in Nineveh", Journal of Economics and Administrative Sciences, 26(123), pp. 42-52. doi: 10.33095/jeas.v26i123.1985.
Section
Managerial Researches
Articles submitted to the journal should not have been published before in their current or substantially similar form, or be under consideration for publication with another journal. Please see JEAS originality guidelines for details. Use this in conjunction with the points below about references, before submission i.e. always attribute clearly using either indented text or quote marks as well as making use of the preferred Harvard style of formatting. Authors submitting articles for publication warrant that the work is not an infringement of any existing copyright and will indemnify the publisher against any breach of such warranty. For ease of dissemination and to ensure proper policing of use, papers and contributions become the legal copyright of the publisher unless otherwise agreed.
The editor may make use of Turnitin software for checking the originality of submissions received.