The Role of the values of accounting culture in maximizing financial performance - A field study in a sample of Iraqi banks
Keywords:
الثقافة المحاسبية، الأداء المالي.
Abstract
The influence of culture on accounting systems and practices, including financial reports and accounting information through the values ​​identified by Gray and derived from social-cultural values, and the four accounting values ​​were derived from generally accepted accounting principles represented by (Conservatism, Uniformity, Secrecy, and Professionalism). Important and significant in maximizing financial performance, and measuring the extent of the role of these values ​​in improving financial performance through attention to the values ​​of accounting culture, this research aims to demonstrate the role of accounting culture values ​​in maximizing financial performance for a sample of Iraqi banks (75) questionnaires were distributed to a sample of managers, members of the board of directors, and workers in the Iraqi banking sector under investigation, of which (72) were valid for measurement, as three private banks were selected (International Islamic Bank, Iraqi Commercial Bank, Gulf Commercial Bank), and a test was conducted The hypotheses of the study using a set of statistical methods by relying on the statistical package program (SPSS), and the research concluded that the values ​​of cultural accounting have a role in maximizing financial performance in banking institutions, and the research recommends the need to deepen the values ​​of accounting culture through publications and small brochures to demonstrate their importance For cadres in banks and for its positive results, especially financial aspects (financial performance) in order to establish the values ​​of the accounting culture they have for practicing at work.
Downloads
Download data is not yet available.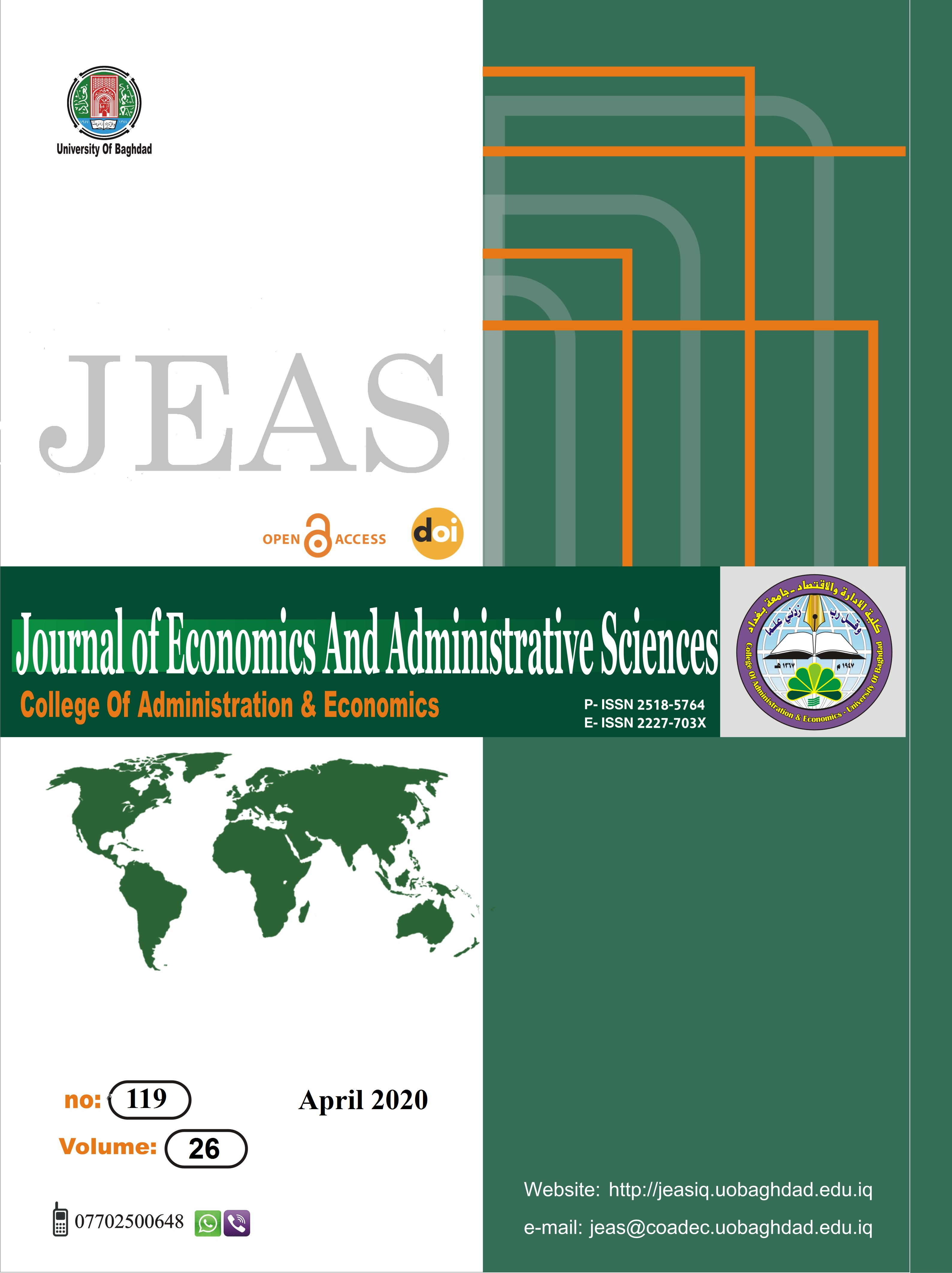 How to Cite
محمد ش. ع., فرحان خ. ع. and فرحان خ. ع. (2020) "The Role of the values of accounting culture in maximizing financial performance - A field study in a sample of Iraqi banks", Journal of Economics and Administrative Sciences, 26(119), pp. 531–548. doi: 10.33095/jeas.v26i119.1899.
Section
Accounting Researches
License
This work is licensed under a Creative Commons Attribution-NonCommercial-NoDerivatives 4.0 International License.
Articles submitted to the journal should not have been published before in their current or substantially similar form, or be under consideration for publication with another journal. Please see JEAS originality guidelines for details. Use this in conjunction with the points below about references, before submission i.e. always attribute clearly using either indented text or quote marks as well as making use of the preferred Harvard style of formatting. Authors submitting articles for publication warrant that the work is not an infringement of any existing copyright and will indemnify the publisher against any breach of such warranty. For ease of dissemination and to ensure proper policing of use, papers and contributions become the legal copyright of the publisher unless otherwise agreed.
The editor may make use of Turnitin software for checking the originality of submissions received.