Evaluating the Efficiency of the Municipal Sector in Anbar Governorate, using the Non-Parametric Approach (DEA).
Keywords:
Efficiency, Evaluating, Data Envelopment Analysis (DEA), Municipality, Municipalities
Abstract
The research aims to measure, assess and evaluate the efficiency of the directorates of Anbar Municipalities by using the Data Envelopment Analysis method (DEA). This is because the municipality sector is consider an important sector and has a direct contact with the citizen's life. Provides essential services to citizens. The researcher used a case study method, and the sources of information collection based on data were monthly reports, the research population is represented by the Directorate of Anbar Municipalities, and the research sample consists of 7 municipalities which are different in terms of category and size of different types. The most important conclusion reached by the research is that there is a variation in the efficiency values ​​of the municipalities of the research sample through the presence of efficient and inefficient municipalities, and that the degree of technical efficiency and volumetric efficiency increases in large municipalities with high varieties and decreases in small municipalities with low varieties. Finally, the research recommends the necessity of choosing the research sample from the municipalities with close varieties such as the excellent and first categories, the first and second categories, the third and fourth categories, or only similar categories, This suggestion to ensure more accurate and realistic results, and to use the efficiency index directed towards the outputs in light of the returns of the variable size (VRS-OO) to measure the efficiency of the municipal sector
Downloads
Download data is not yet available.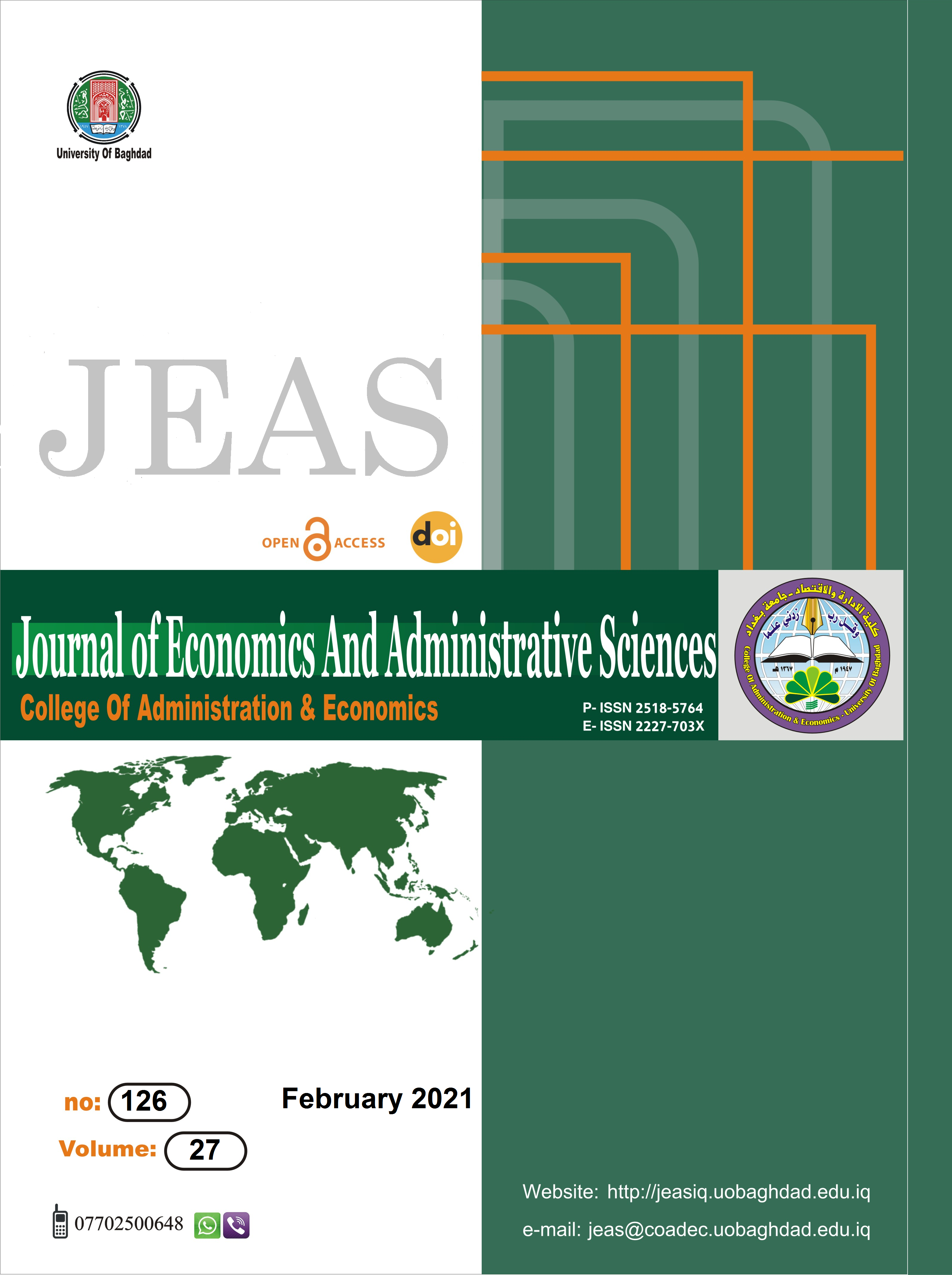 How to Cite
Neda, S. T. S. and Maqtof, H. S. (2021) " using the Non-Parametric Approach (DEA)"., Journal of Economics and Administrative Sciences, 27(126), pp. 223–244. doi: 10.33095/jeas.v27i126.2104.
Section
Managerial Researches
License
This work is licensed under a Creative Commons Attribution-NonCommercial-NoDerivatives 4.0 International License.
Articles submitted to the journal should not have been published before in their current or substantially similar form, or be under consideration for publication with another journal. Please see JEAS originality guidelines for details. Use this in conjunction with the points below about references, before submission i.e. always attribute clearly using either indented text or quote marks as well as making use of the preferred Harvard style of formatting. Authors submitting articles for publication warrant that the work is not an infringement of any existing copyright and will indemnify the publisher against any breach of such warranty. For ease of dissemination and to ensure proper policing of use, papers and contributions become the legal copyright of the publisher unless otherwise agreed.
The editor may make use of Turnitin software for checking the originality of submissions received.