Estimation of Time of Survival Rate by Using Clayton Function for the Exponential Distribution with Practical Application
Keywords:
survival function, creatinine, factor analysis, Clayton bond function, unary distributions, co-binary distribution .
Abstract
Each phenomenon contains several variables. Studying these variables, we find mathematical formula to get the joint distribution and the copula that are a useful and good tool to find the amount of correlation, where the survival function was used to measure the relationship of age with the level of cretonne in the remaining blood of the person. The Spss program was also used to extract the influencing variables from a group of variables using factor analysis and then using the Clayton copula function that is used to find the shared binary distributions using multivariate distributions, where the bivariate distribution was calculated, and then the survival function value was calculated for a sample size (50) drawn from Yarmouk Hospital for renal patients, where nephritis directly affects human life because of its risks related to an increase in the possibility of permanent damage to the kidneys or infection that may cause failure. Renal life-threatening and the survival function represents the time when a particular system stops working After applying the model, it was found from the results of the research that there is an effect of an increase in the level of creatinine in the blood with age on the survival function ratio, as the higher the creatinine percentage leads to a decrease in survival, which means that the period of time lived by a person with an increase in creatinine in the blood decreases the higher it is in patients.
Downloads
Download data is not yet available.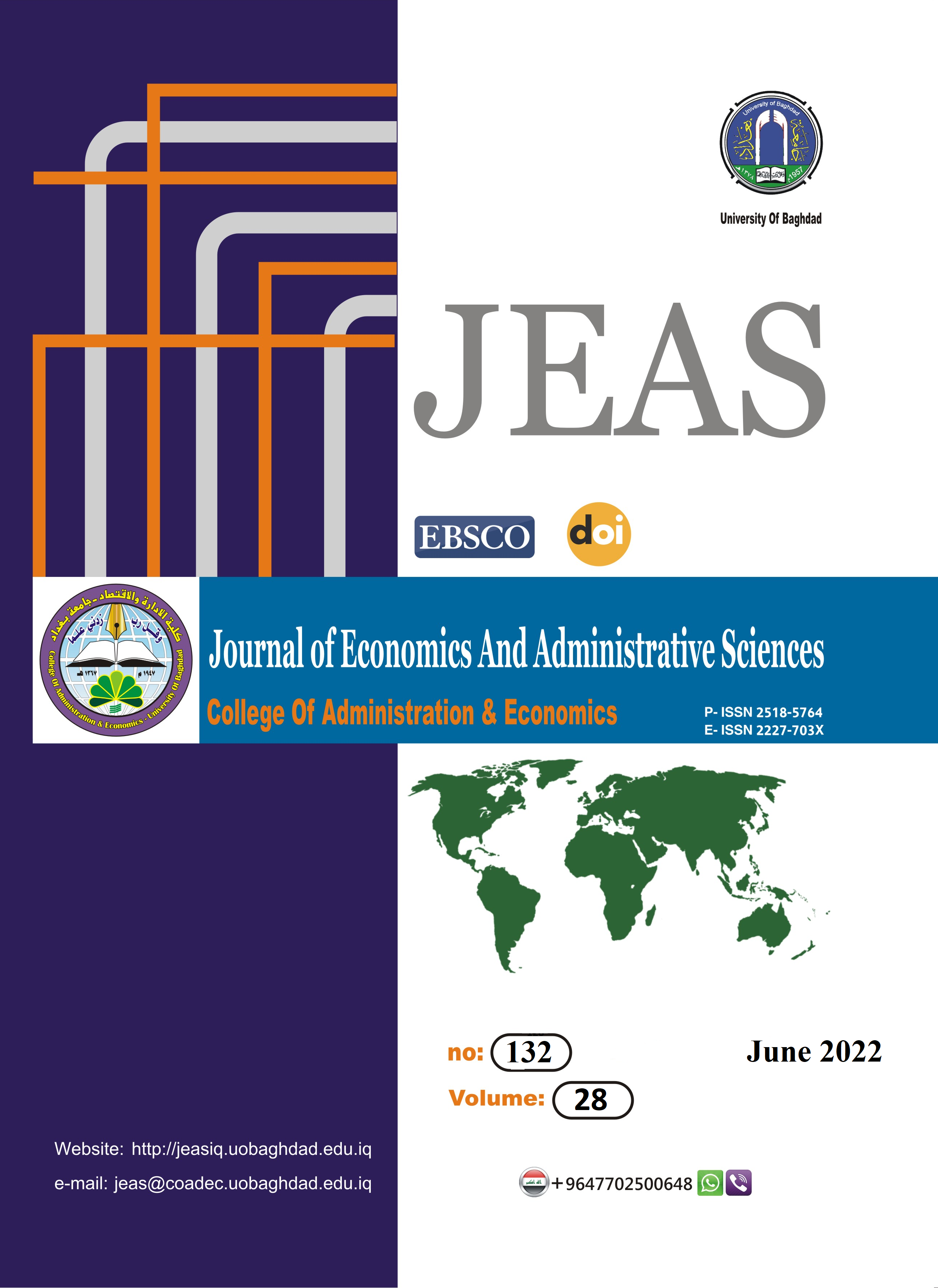 How to Cite
Kadhim Jewi, M. . (2022) "Estimation of Time of Survival Rate by Using Clayton Function for the Exponential Distribution with Practical Application", Journal of Economics and Administrative Sciences, 28(132), pp. 134–145. doi: 10.33095/jeas.v28i132.2278.
Section
Statistical Researches
License
This work is licensed under a Creative Commons Attribution-NonCommercial-NoDerivatives 4.0 International License.
Articles submitted to the journal should not have been published before in their current or substantially similar form, or be under consideration for publication with another journal. Please see JEAS originality guidelines for details. Use this in conjunction with the points below about references, before submission i.e. always attribute clearly using either indented text or quote marks as well as making use of the preferred Harvard style of formatting. Authors submitting articles for publication warrant that the work is not an infringement of any existing copyright and will indemnify the publisher against any breach of such warranty. For ease of dissemination and to ensure proper policing of use, papers and contributions become the legal copyright of the publisher unless otherwise agreed.
The editor may make use of Turnitin software for checking the originality of submissions received.