Developing System of Solid Waste Management (Applied Research in Hilla City)
Abstract
Abstract
The research aims to stand on the practice of operations management of solid waste in the city of Hilla, carried out by the mayor of Hilla Directorate - solid and the environment Waste Division, through field visits and personal interview to officials of the municipal departments and units of its data collection and information related to solid waste, and assess the current status of the processes of collection and transport waste through the questionnaire that had been prepared for citizens and employees, the search reach a set of conclusions was the most important, operations carried out by the municipality of Hilla Directorate only limited to two (collection, transportation and disposal of waste in the open position) and it is not working properly, because of the many problems that can be identified as finance, human and material, and the presence of serious and genuine desire for the process of sorting the waste by the citizens in the event of availability of the necessary supplies, and that the current landfill site has many environmental and health damage due to its location is not appropriate and that his work is not in accordance with the engineering and technical mechanisms standard applicable internationally, Based on the findings of the research results it has developed a set of recommendations including minutes prepared by the municipality of Hilla Directorate about what produces the individual per day of waste and identify and classify types of waste because of its significant impact in the stages of waste management, and the preparation of programs and courses developmental for integrated solid waste management staff and workers, and educating and encouraging citizens on the need for the initial screening of waste by him.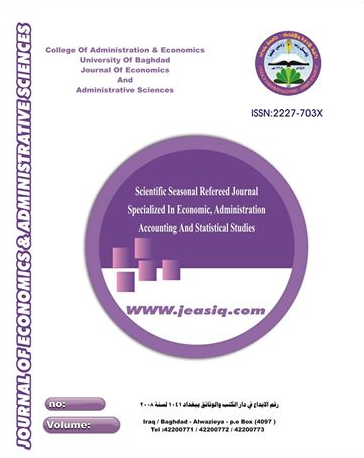 How to Cite
جثيرس. (2016) "Developing System of Solid Waste Management (Applied Research in Hilla City)", Journal of Economics and Administrative Sciences, 22(91), p. 129. doi: 10.33095/jeas.v22i91.478.
Section
Managerial Researches
Articles submitted to the journal should not have been published before in their current or substantially similar form, or be under consideration for publication with another journal. Please see JEAS originality guidelines for details. Use this in conjunction with the points below about references, before submission i.e. always attribute clearly using either indented text or quote marks as well as making use of the preferred Harvard style of formatting. Authors submitting articles for publication warrant that the work is not an infringement of any existing copyright and will indemnify the publisher against any breach of such warranty. For ease of dissemination and to ensure proper policing of use, papers and contributions become the legal copyright of the publisher unless otherwise agreed.
The editor may make use of Turnitin software for checking the originality of submissions received.