The impact of Emotional Marketing on customer experience applied research in Altaif Company for convertible financial
سعدون حمود جثير

سرى علي سعيد
Abstract
Become organizations today can not withstand the competitive challenges and constant change in the business environment , as well as the pressures witnessed by the Iraqi environment , especially in recent years such as the opening of the market  which increased ambitious organizations and desire to secure the experiences superior to the survival and expansion of the competitive environment , prompting attention to the subject of vital contemporary is emotional Marketing and measure its impact on the customer experience in the sector of the economy is important and is the financial sector , so there is a need to study this term in the Iraqi organizations and try to diagnose the extent of implementation of the study sample emotional marketing and its impact on the customer experience, and have been chosen Altaif company for convertible financial application of the study data was collected from ( 60 )staff member of the front line and sections and divisions of the company, and used the checklist as an essential tool for the collection of data , The study found a set of conclusions and recommendations , including the possession of the company researched integrated database private customers make it easier for the customer conversion processes conversion processes subsequent information about the customer and thus did not need to bring the archives tariff and probative and limited to the PIN number for each customer , which in turn contains its own data , but it should be on the company surveyed to take a broad interest to customers across their views, and the degree of satisfaction with the services provided and to provide a mechanism to respond to the requirements that have been monitored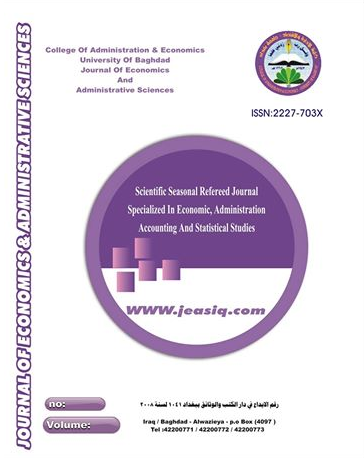 How to Cite
جثيرس. and سعيدس. (2015) "The impact of Emotional Marketing on customer experience applied research in Altaif Company for convertible financial", Journal of Economics and Administrative Sciences, 21(82), p. 70. doi: 10.33095/jeas.v21i82.593.
Section
Managerial Researches
Articles submitted to the journal should not have been published before in their current or substantially similar form, or be under consideration for publication with another journal. Please see JEAS originality guidelines for details. Use this in conjunction with the points below about references, before submission i.e. always attribute clearly using either indented text or quote marks as well as making use of the preferred Harvard style of formatting. Authors submitting articles for publication warrant that the work is not an infringement of any existing copyright and will indemnify the publisher against any breach of such warranty. For ease of dissemination and to ensure proper policing of use, papers and contributions become the legal copyright of the publisher unless otherwise agreed.
The editor may make use of Turnitin software for checking the originality of submissions received.